By Jay Jackson-
It is March and now you know what time it is. It is March Madness and students are starting to get excited.
"I can't wait to fill out my bracket," said Robert Warfel, " Even though I know I won't win."
The match ups for the tournament will be announced Sunday night during Selection Sunday. There are a handful of teams that are gunning for one of the four number-one seeds.
Kentucky is probably a lock for the first overall number one and Syracuse will definitely be a number one as well. However after that it is a hodgepodge of teams that have a chance to be a number one seed.
Kentucky: According to most, Kentucky is by far the best team. People can't argue with their dominating performances in SEC play. They got through their tough league play with no losses. Their only loss came on a desperation three to Indiana early in the season. They have victories over  North Carolina, Louisville, Kansas and two wins over Florida.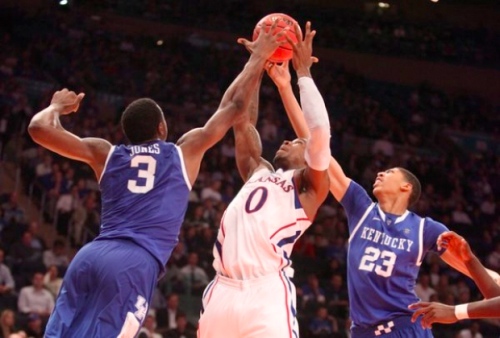 Syracuse: If Kentucky is the best, then Syracuse is next in line. They, as well, went through their tough regular season with only one loss to Notre Dame. They had wins over Florida, Marquette, Georgetown and Louisville twice. The Syracuse Orange look to be a lock for a number one seed.
Kansas: Kansas is playing their best basketball of the season at the right time. Each game they seem to get better and better. Kansas has some tough losses to top notch competition and one really bad loss to Davidson. The Jayhawks have beaten Ohio State, Kansas State, Missouri, and Baylor twice.
North Carolina: With the pure talent they have on their team they should be either one or two. Carolina has slightly under achieved. Four of the starters are projected to be drafted in the first round. Their peak of disappointment was at Florida state where they were blown out of the gym by 33 points. However UNC has been playing better and better and they just dominated Duke at Cameron Indoor stadium.
Missouri: Best guards in the nation. They were looking like one of the top three programs in the country before they blew a 19-point lead in the second half against Kansas recently. The Tigers just lost two straight to Kansas State who swept them this season and obviously Kansas. They had a tough schedule and had a very good season under their first year head coach. Nobody expected them to make this big of a splash.
Duke: After Duke got beat down last Saturday it seems to be an outside chance that they get a number one seed. They had a tough out-of-conference schedule this year. Duke is ranked number two in the RPI. They have big wins over Kansas, Michigan State, and North Carolina. Duke lost to Ohio State, Miami, Florida State, North Carolina, and a terrible loss to a weak team in Temple.