By Maggie Dubbs –
Who knew that rubber shoes would ever be a fashion.
Ladies and teens have taken these seemingly childish shoes to make them a stylish fashion must-have.
Rain boots have become more and more popular since  2008 according to 'Google's' graph on trends, and according to retail profits for rain boots.
"I got them before everyone, I was in the store with my mom, and she was like'you'll never wear them' but I knew I was going to," said Emily McCoy.
"I actually got them after Emily, I saw hers, and I liked them," said Eryn McCoy, Emily's twin sister.
Sales of rainboots really took off when Kate Moss was spotted in 2005 at the Glastonbary Festival in a pair of Hunter Wellingtons.
Although these rubber shoes were not always directed towards women and fashion. In fact, they started out as a leather riding boots for the first Duke of Wellington.
The Duke did not see his leather shoes as comfortable, so he had his tailors fix them. All at once, the boots were now made in rubber, easily wearable, and they were comfortable.
Hunter started the company in 1856, and worked toward today's success.
Now, top name designers such as Burberry and Coach are making rainboots in fashionable designs.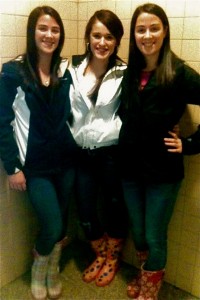 "I just think they're really comfortable," said Brooke Hemcher.
But, rain boots aren't only used for fashion.
Students at Penn Manor in the agriculture clubs and classes especially take pride in their boots. They might not always be stylish, but they come in handy when getting dirty.
"You know you use your boots for the right purpose when they're muddy," said Margaret Drumm.
Drumm is vice president of the agriculture club and participates in many farm shows.
"They're very easy to clean off, that's why we (ag students) use them so much. They're just more convenient," said Drumm.
With a pair of rubber boots underneath their belt, nothing is impossible for the agriculture classes. They might not be in floral or Burberry print, but they help get the job done.
"I love April for that reason, it's the time I get to wear my rain boot's the most," said Hemcher.