By Cody Straub, Simon Zimmerman, and Connor Hughes –
It's a bad reality for American drivers all over again – filling up the car with gas.
The money ticker keeps rising at the pump while the amount of gallons of gas slowly creeps along.  And for a full tank, some drivers are emptying their wallets like never before.
Teachers at Penn Manor are feeling the pinch and are finding creative ways to save money.
Just like 2008, gas prices are hitting all-time highs in the United States, and with rising petrol prices come some unwanted changes that the American people have to make.

Take for example Penn Manor gym teacher B.J. Atkins, who owns and cherishes her pickup truck. The only problem is it isn't the most economical car when it comes to gas mileage.
"When I bought it, I knew I just wanted a truck," said Atkins.
Unfortunately for her, the rise in gas prices have made her dream vehicle into a gas-gulping monster.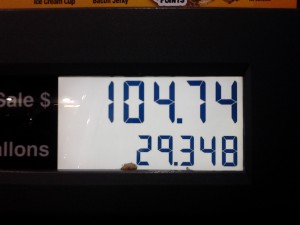 "Recently it has been super expensive, $400 a month just for gas," said Atkins.
Gas prices have risen at least 40 cents in just the past year to a national average of $3.56 per gallon, according to a CBSnews.com article.
The discussion about rising gas prices has even found it's way intto the Presidential Race. The Republican candidates are blaming the price increase, and the burden it is putting on the American people on current President Barack Obama.
They are putting part of the blame on Obama's decision not to allow the Keystone Pipeline.
Another factor is the tension between the U.S. and Iran.
According to CNNMoney, Iran's 2.2 million barrels of oil a day they produce could be cut off, which, according to basic economies means the supply goes down and the prices go up.
With the weather getting nicer and gas prices rising, some people are leaving the car in the garage and bringing out the old bicycle to get where they need to go. Not only can they get exercise, they can get where they need to go without shelling out money at the gas pump.
Penn Manor history teacher Streeter Stuart is making the short walk from his home to the high school for economic and physical reasons.
"I enjoy walking, it wakes me up in the morning."
Although gas prices may get as high as $4 by summer, Stuart isn't too worried.
"I don't like it, but I'd still do the things I like to do," said Stuart.  "I don't do a ton of driving as it is.  We take our summer vacations, I go to a few Virginia football games, and that's about it."
Since Stuart doesn't commute to work, he has a huge advantage when it comes to conserving gas.  But, he is sympathetic to those who are forced to drive everyday.
"If I traveled more, it would definitely be a bigger concern," said Stuart.  "But I live close by, I walk to work."
Penn Manor math teacher is going to bike to work to save on gas.
Gas is expensive and it's healthier (to bike)," said Staub who is going to start Monday riding rather than driving to school.
It's a three-mile ride and Staub admits his bike is not the newest.
"I've had it for a while and I'm not going to go out and buy an expensive bike when I'm trying to save money," Staub said.
Although lots of people are complaining about the price of gas, most conversations haven't turned to conservation – including car pooling.
Gas prices are on the rise and will continue to rise for the foreseeable future. That means many Americans will have to make changes to their lifestyle to save a few bucks at the pump.