By Alexa Stewart & Breiana Herr –
Raising money for victims of tragic situations, reading to young kids, helping out with a world renowned chicken barbecue, and other acts of community service resulted in BIG awards for two Penn Manor High School seniors.
Jennifer Rote and Taylor Gamber are two head members of Penn Manor's own Serteen club. Rote and Gamber are in charge of putting together volunteer opportunities for their club to partake in. Some events that Serteen participate in are; the Blood Drive, Daffodil Days, Read Across America, Winter Formal, Sertoma chicken barbecue, and Pennies for Patients. These events led to Rote and Gamber receiving scholarships and awards.
Rote is the president of the school's Serteen club and was recently invited to a luncheon with the Sertoma president at Media Heights. There the president presented her with the three awards for her outstanding leadership in Serteen.
"I was ecstatic and honored at the same time when I was awarded with top club Serteen, top district Serteen, and top region Serteen," said Rote.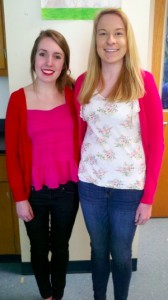 Rote will be attending HACC in the fall and, although they don't offer any scholarships for community service, she plans to continue her work in the community, helping and serving others.
Gamber, Serteen's secretary, will be attending York College majoring in public realtions and minoring in graphic design for the fall and some of her tuition will be payed from a scholarship she received for her community service and Serteen.
"I love giving back to the community and the skills I received from participating in Serteen club, so receiving this scholarship was a complete honor and it feels really good to know they chose me," said Gamber.
York college was so impressed with Gamber's involvement with the community that they personally sent Gamber a letter stating that they'd really like for her to start a Serteen club at York College.
"I was shocked when they asked me to start a Serteen club at their college, and I knew I had to accept it right away," recalled Gamber.
Serteen is a community service club and there are very few in Pennsylvania. In fact, Penn Manor is the only high school around that has a Serteen club at their school.
"Serteen is a really great club, and we're so passionate about what we do. We work well together to make everything successful," said Rote.
Serteen is also a teen version of the community service organization Sertoma. Sertoma host the biggest chicken barbecue in the world every year locally at Long's Park.
"Everyone in Serteen is required to participate in the Sertoma chicken barbecue since it's such a big event for Sertoma," added Gamber.
"We all really enjoy the chicken barbecue and have a lot of fun together while participating in it," said Rote.
Serteen club organizes all of the events that happen at Penn Manor. This year they set up winter formal and came up with the theme. They recently organized the blood drive at school, and are currently working on Read Across America where they encourage kids to read by reading them books, and handing free books out.
"Knowing we were the ones who made all the events successful and knowing we helped out without receiving anything in return is all what Serteen is about, and we're honored to be head of the club and to have received the awards and scholarships we have," said Rote and Gamber.