By Brady Charles –
Penn Manor alum Peter DeLuca starred in his own show Sunday, making a name for himself in Division 1 lacrosse.
In a live televised event on NBC Sports, DeLuca, a sophomore at Jacksonville University,  tied a career-high in saves (20) in an upset win against national powerhouse Navy.
Sunday's showcase was a part of  Moe's Southwest Grille Classic at the Jacksonville Jaguars' Everbank Field, which also included a game between Ohio State vs Denver beforehand.
But it was Deluca who stole the show and the television announcers couldn't get enough, showing replays over and over of him defending the goal.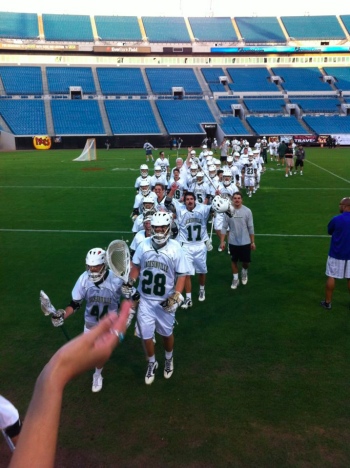 "That's Deluca again," said one after one amazing save.  "He's only a sophomore."
"That's All-American Play," proclaimed another.
After the game it was Deluca and his coach, Guy Van Arsdale, who were interviewed on the sidelines.
The young goalie already has had a huge impact on the beginning of the Dolphin's season, but Sunday was the first Division 1 win for the season.  DeLuca's career high of 20 saves came first in last year's season finale against Duke.
"You got to play for 60 minutes, and that's what got us the W," said DeLuca after the game was over and Jacksonville had won 13-7.
DeLuca was named "Game MVP" by NBC Sports, and during the interview, many noticed  the MVP's facial hair.
DeLuca was sporting a mustache, which the team does as a tradition.
"Everyone grows out a mustache until our team's first win, we have fun with it," said DeLuca.
Luckily that win came quick.
Jacksonville is a third year lacrosse program on the rise in Northeast Florida. With the location of the University just miles off the beach, many top recruits are drawn to the school.
"Being in Florida and being so close to the beach I think gives us an almost unfair advantage in recruiting process," said DeLuca.
Jacksonville is one hot topic on lacrosse forums such as Laxpower.com, Lax.com and Insidelacrosse.com.
So is Pete.
Some followers of the game are putting DeLuca in the early discussion as an All-American candidate.
Something DeLuca's familiar with.
As a junior in high school DeLuca was named an All-American, which was only months prior to his recruitment by Jacksonville.
In only their third year of having a lacrosse program, the Dolphins had a coaching change to Van Arsdale, a Hobart grad, and former Division III "Player of the Year" in 1983. Van Arsdale was, coincidentally, a goalie.
"Our new coach is more of a disciplinarian then our old coach, it's a little different, he taught me a bunch of new things this year that helped me out a lot," DeLuca said.
"We work very hard, and our coach is tough on us. He expects a lot out of us," Deluca said.
Jacksonville faces a tough non-league schedule which includes Duke and Michigan in a five-day span. DeLuca feels confident about the upcoming Duke game.
"They looked very beatable in their loss to Notre Dame this weekend, we feel good about it as long as we play like we are capable of playing," DeLuca said.
Jacksonville will face off against the highly touted 10th ranked Duke squad  Sunday in Durham, N.C. at 1 p.m.