By Maggie Dubbs –
Who knew you would ever find your soul mate from a piece of paper.
With Valentine's Day right around the corner, students at Penn Manor were anxious to receive the Matchmaker forms they filled out in mid- January.
At a cost of $2 each, Matchmaker forms would in turn tell the students who could be their best possible match-up among students in their grade and other grades as well.
Student Council, a club at Penn Manor, decided to put these together as a fundraiser.
"There was about 250 turned in this year," said Jillian Heckman, a class officer for the juniors. "It's definitely less than we've had in the past years."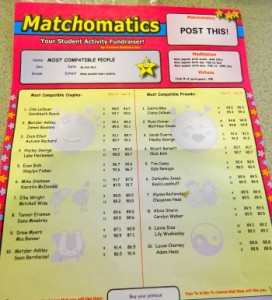 Megan Schlegelmilch is on student council and is in charge of Match Makers this year.
"It was a longer, more complicated process this year with homeroom not being where the student's primarily filled them out in years past," said Schlegelmilch.
This year students were asked to fill them out in their first block classes, so many of them weren't turned in, Schlegelmilch reasoned.
"Last year there was like, four boxes to pick the Matchmakers out of, but this year there was only one," said Schlegelmilch.
The results were based off  a personal survey and preferences that students filled out. Certain questions such as hair color preference and height were included in the questionnaire.
Junior Robbie Conover said he just does it for fun, not necessarily to find his match.
Erica Williams and Kenzie Caterbone, both juniors, said they were each others' number sixth most compatible friend.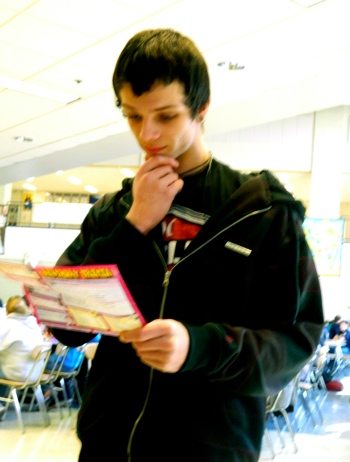 "It's weird because my actual good friends are lower on my friend's list, and people I've never heard of are up higher than my good friends," said Caterbone.
Williams also found this interesting because her and Caterbone are close friends.
Billjo Atkins, high school gym teacher, is in charge of student council.
The money raised from this fundraiser was around $120, said Atkins who said it will be used to benefit general student activities.
Student council says they look forward to next year as this fundraiser not only benefits them, but is also enjoyable for the students.
"It might not have been a lot, but any money we bring in is always beneficiary," said Aktins.