By Iris Santana –
"We look at Kim Kardashian and we see a banging body and what she wears and we want to mirror her (pauses and looks around) or at least get someone close to her," Adrian Viruet, a junior at Penn Manor said recently.
Fashion is manipulated in many ways through movies, music videos, models and celebrities. A lot of students feel as though what they see on TV and in stores is what they need to be in real life.
"They wanna be what they see on TV," said Dimitrius Dennison, a senior at Penn Manor.
"It makes young girls think that's how they're supposed to look," Glady Clay, another senior at Penn Manor added.
Clay also added some advice for girls with insecurities about themselves.
"Be happy in your own skin and be proud of what you have."
A huge influence right now is from the movie, "The Girl With the Dragon Tattoo."
The character of Lisbeth Salander is based on a real person, but not all of the characteristics are the same. The movie version is quiet and almost secretive, considering she works for Milton Security as a researcher and computer hacker. She also has a very deep, dark and troubled past, causing her to have hatred towards men that abuse women.
Stores like H&M have made their own line 'imitating' the Lisbeth Salander character.
Some customers didn't approve of the line and were in fact offended by it.
"The collection is based on and inspired by the film and character of Lisbeth Salander and though we think Lisbeth Salander is a strong woman who stands up for her ideal, we are not trying to represent her specifically. Our goal is to rather offer a collection that we see in today's trend picture that will appeal to many customers." a H&M spokesperson stated to the Wall Street Journal, in regards to the disappointed customers.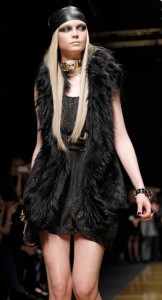 This may have been somewhat of an influence in Penn Manor.
"People wanna be rock stars, with the chains and the skinny jeans." said a sophomore, who wished not to be named.
The edgy, 'not normal' look is in style.
"It's a 'dare to be different' kind of thing." said Bre Massey, a student at Penn Manor said.
Girls tend to be too sprung up about their looks nowadays.
"Basically, if they see it and others look like that… it's all apart of fitting in." Massey added.
The hardcore look isn't the only style coming out.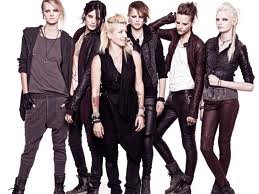 Adidas are starting to go after more teenage girls rather than teenage boys.
According to Erich Stamminger, the board member responsible for global brands, "Teenage girls are a target group we didn't really reach so far, whereas boys are closer connected to Adidas via sports,"
"For girls, you need a bit more of fashion influence and that's exactly what we are offering with NEO," he stated in an interview with businessweek.com.
Girls are influenced by everything around them. Whether it's friends, movies, music or TV, and it's not going to change anytime soon.