By Jacob Shiner and Sam Valentin-
Big brother is watching you, and at Penn Manor he received an upgrade.
Recently the high school underwent a security enhancement, adding about 120 security cameras to the previously outdated system.
"We were fortunate enough to get a grant in joint with Millersville Borough Police, so we made the upgrade," said school resource officer Jason Hottenstein. "The system was outdated, it was time for the upgrade."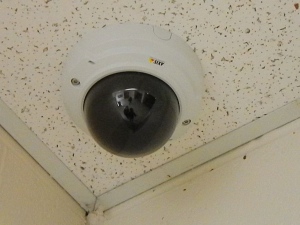 Hottenstein jokes, "The system we had was completely outdated, you couldn't tell who was who or a person from an animal."
The new surveillance structure is not up and running yet, but will be operational before March. Hottenstein says that in spite of this delay, the presence of the cameras has already kicked in as a deterrent to misbehavior.
"Less trouble has been happening, (the cameras are) going to help a lot," said Hottenstein. "It's going to be complete coverage, no partial or blind spots."
Assistant Principal Eric Howe agrees with Hottenstein and is pleased with the upgrade opportunity.
"The federal government offered to match whatever we put in," said Howe. "It's great anytime you can get free money."
Hottenstein says that the new cameras will help to maintain student safety.
Penn Manor senior, Evan Bigler agrees.
"They can watch more areas," noted Bigler. "If someone is doing something illegal they can catch them and keep the school safe."
"The number one thing it will help with is student physical altercations. They can be a tool to determine how it started and who started it," said Hottenstein. But not all students agree with Bigler.
"I think they are a bit unnecessary," said Penn Manor senior, Katrina Torres. She added jokingly, "It kind of feels like a jail." Torres is also a victim of multiple robberies here at Penn Manor. She thinks the cameras will help cut down on this issue.
"Hopefully it will aide in preventing such behavior," said Torres, a victim of thievery here at Penn Manor. Hottenstein also said how they can help them respond quicker to these altercations, among other concerns like theft.
"It will help solve the theft issues we've been having in locker rooms," said Hottenstein.
Altogether Hottenstein says that Penn Manor should feel safer after these cameras are up and running.