By Connor Hughes and Sam Valentin-
It might not be the signing day with the most athletes, but definitely some of the brightest and most unique.
This year 12 Penn Manor students are signing their letter of intent to play collegiate athletics at the university of their choice.
The students who are participating in this year's signing day include a female ice hockey player, who plays on a team with boys, an athlete who never participated one day in his sport and a basketball player who will be joining her older sister on the team.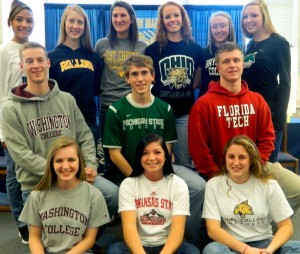 The entire list includes:
DIVISION I
Andrew Herr – Michigan State University – Soccer
Vicky Nase – Ohio University – Field Hockey
Logan Kramer – Arkansas State – Soccer
DIVISION II
Alex Cummins – Florida Institute of Technology – Lacrosse
Emily Eddowes – Rollins College – Lacrosse
Sara Bennis – West Chester State University – Soccer
DIVISION III
Kayla Bixler – Bryn Mawr College – Field Hockey
Jessie Capanelli – Stevenson University – Ice Hockey
Courtney Fatta – Thiel College – Lacrosse
Jenn Hanner – Washington College – Softball
Josh Morgan – Washington College – Rowing
Alicia Ygarza – Eastern Mennonite University – Basketball
—————————————————————————————————————————————————–
Penn Manor Athletic Director Jeff Roth is always excited for signing day.
"I think it's just a nice showcase for athletes who are moving from the high school arena to collegiate level," said Roth. "Few less (then in past) but it's a good number compared to other schools."
Roth added that being a collegiate athlete is like having a part-time job.
"I think most athletes find the time investment difficult," said Roth.  "It shows a level of dedication."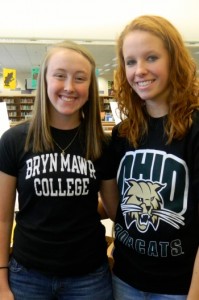 Some very dedicated Division I student athletes have known for months where they are going to play college sports.
Senior girls soccer player Logan Kramer had her decision made for over a year.
"I committed last January at the end of the month, just about this time last year," said Kramer.  "I visited a lot of schools but (Arkansas State) really stood out."
Senior boys soccer player Andrew Herr made his decision at the end of his junior year.
"I wasn't heavily recruited, but this was my first choice," said Herr.  "(Michigan State) always has a really good team."
Senior Josh Morgan got recruited to Washington College, almost by accident.
"I never rowed a day in my life," said Morgan.  "As I was walking off campus and the (rowing) coach came up to me and took me to the boathouse."
Morgan's scholarship is for academics, not sports.  He was a wrestler in high school, and the coach noticed his upper body strength.
"I always wanted to go there, it's right on the Chester River and it just all worked out," said Morgan.
The Penn Manor ice hockey team ( a boys team) was helped this year by senior Jessie Capanelli – who will attend Stevenson University in Maryland this fall.
Also, Penn Manor girls basketball star Alicia Ygarza signed with Eastern Mennonite to play basketball there for the Royal Lions with her sister, Bianca, who is currently the team's leading scorer.
One no-show at signing day may surprise some students, Penn Manor senior Marc Summy. Summy is a basketball standout and is leading the Lancaster-Lebanon League in scoring.  Summy is not sure where he wants to play basketball after high school, but he is sure he'll be playing.
"I'm not signing (on signing day) because the season is still going on.  I'm hoping new doors will open and by the time I sign I want to be able to lay all my options out on the table and pick, to have the peace of mind that I wasn't going to have anymore offers," said Summy.
Summy is deciding between multiple programs.
"My top picks are Navy, Lebanon Valley, and Wheeling Jesuit," said Summy.
Joey Jackson contributed to this post.