By Dayonte Dixon –
Game trends continue to change throughout Penn Manor High School. From Words with Friends to Dragonvale, the hottest app is quickly evolving into the newest phenomenon, Temple Run.
Temple Run is the simplest of games, but has proven to be a consistent form of entertainment for its' players.
"The game is very addicting, and it kills free time," said senior Reagan Forrey.
There are only four actions involved in the game. You can either jump, slide,  move left or move right.
The controls are simple, to go left or right you slide your finger across the screen in the direction you seek to move. To jump, slide your finger up and to slide along the floor,  slide your finger down.
The goal of the game is to get as far as you can before you die. Scores can vary from one hundred to several million. The game offers ways to improve your score by buying different perks such as power boost, invisibility, magnets and wings. Each of these perks have different abilities that enhance the score of your current "run."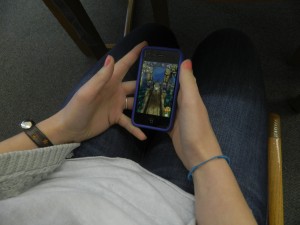 Janelle Musser, a senior at Penn Manor, is a beginner in the Temple Run world.
"Lets just say it's really low." Janelle Musser said referring to her top score.
In order to get perks for the game you must collect coins throughout each of your runs. Collecting these coins allows you to buy and upgrade different perks. Players should collect as many coins as possible because the cost of each perk increases as you upgrade it.
"Yea, I don't even collect the coins; it's hard enough just to stay alive." Janelle Musser.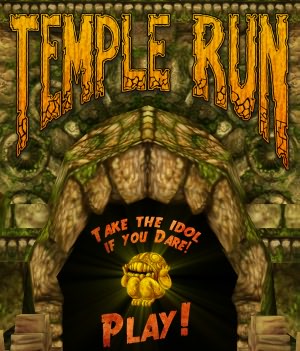 This hot App is beginning to pose a problem in Penn Manor High School though, as more and more students are playing it during school hours, despite the risk of getting their phone taken away.
Diane Bounds, librarian at Penn Manor, says she sees this very often. First she will give them a warning, then she will take their phones until the end of the block.
"I give out at least three to four warnings a day," said Bounds.
To ensure that its players' do not lose interest, the app allows its players' to share their scores on Facebook, which encourages friends to compete against each other to see who can get the furthest.
You can also change the appearance of your runner. There are several different characters including a football player, Barry Bonds, Montana Smith and Francisco Montoya.
Temple Run has created a game that will take a while to go out of style. It provides an everlasting form of entertainment that has knocked its competitors out of the water.
Said senior Alex Cummins  "Temple Run is so much better than Angry Birds."