By Alex Kirk –
Imagine sitting in a chilly, sixty-degree arena on cold metal bleachers watching people skate around on a frozen swimming pool. Sound like fun?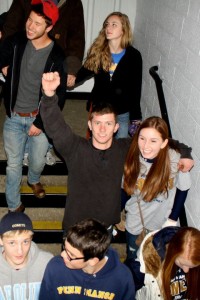 Penn Manor fans seem to think so.
Some go just to watch their friends, others go for the excitement. Which ever the case, Penn Manor fans have found a new favorite high school sport to watch.
"They're action packed and suspenseful.  There is never a dull moment," said Emily Eddowes, a Penn Manor senior who attends the ice hockey competitions.  "They're really fast paced so you can really get into the games."
Lately, the Comet crowd has filled the stands at the Lancaster Ice Rink.  About 20 students attended the first home game of the season on November 16.  Some had been to hockey games before and already knew how exciting they could be.  Others had the pleasure of experiencing the thrilling attributes of the game, such as breakaway saves, speeding slap shots and brutal knockout hits, for the first time.  They all left the rink after the game sure that they got their money's worth.
Word spread fast around the school between students and teachers about how enjoyable the hockey game was.
The next home game was Friday night.  Within two days, the student attendance was more than double the previous number at almost fifty kids.
"I think the support from the fans this year is awesome," said goalie Braden Kruger, a senior on the team.  "A lot more people are coming out and making noise and that only helps the players on the team play better and want to do well at the games."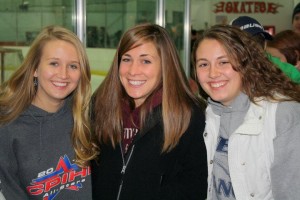 The ice hockey team never had quite as large a fan base before.  Previously, they had trouble getting people to come watch them play.
"I never had friends playing on the team before, but now I have players like (Kevin) Reinhart and Braden to watch," said senior Simon Zimmerman. "It never really appealed to me before I guess."
The lack of attendance could also be linked to the fact that their home rink is somewhat of a far drive to get to, and their games are typically scheduled late at night and there is a $3 admission fee.
None of these reasons, however, seem to be stopping the eager fans now.
"I will definitely be going to all the upcoming home games," exclaimed Sara Bennis, another senior hockey fan at Penn Manor.
The ice hockey team has a current record of two wins and two losses.  They are constantly growing as their relatively young team continues to strengthen.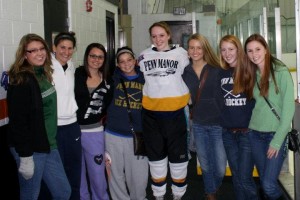 This year's team is, in fact, a young group.  Their roster is made up of 15 players, 11 of which will be returning next season.  They are:
Returning seniors – Jessie Capanelli and James White.
Returning juniors – Derek Good, Jason Green, Kevin Reinhart, Nick Young and Matt Gue.
Returning sophomores – Nick Cirko, Ryan Pryzbylkowski and Danny Duvall.
New additions to the 2011 squad – seniors James Frese and Brad Kruger, juniors Zack Plank and Deryk Morales and freshman Austin Dittenhafer
The Comets are coached by Chuck Green, Greg Plank, Ralph Reinhart and recent Penn Manor graduate and former player Garth Bolin.
The next home game is at the Lancaster Ice Rink Wednesday Dec. 7 at 8:30pm against rival Lampeter-Strasburg.