By Kevin Holton –
Besides eating turkey and stuffing, there's not much more to do on a rainy and cold Thanksgiving holiday weekend.  Luckily, this year will not be that way.
Those stuffed with turkey and mashed potatoes will be able to take a leisurely walk or play a game of football to work off the extra calories.
According to the The Weather Channel, Thursday through Saturday will offer a stretch of beautiful weather for late November with temperatures rising high into the 50s.
Millersville University's Meteorologist, Eric Horst, believes its going to be even warmer than that for the holiday weekend.
"If everything lines up, it could get up to the 70s this Thanksgiving weekend," said Horst.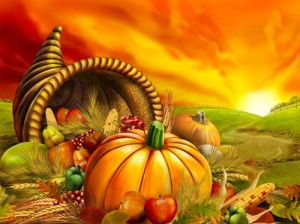 This kind of warm weather is very unusual for this time of year.  But this has been a year for unusual weather.
"I looked through the records and 2001 was the last time we had a Thanksgiving this warm," said Horst.
Penn Manor students couldn't be more excited about the weather turning out this way.
"I'm gonna be tearin' it up everyday on my quad," said Penn Manor senior Dylan Tremellen.
Students plan to soak up the warm weather since it is usually quite scarce at this late in the fall.
"I will be playing a lot of basketball and also playing football with my friends," predicted senior Reagan Forrey.
Senior Alex Cummins also plans on having a good time with family this year, outside.
"I'll be eating a lot of food for Thanksgiving and then probably going to my cousin's lake to hangout," he said.
"I would love to go outside and play with my dog Bronson and take him for walks in the warm weather," said senior Matt Noll, who was savoring the sunny forecast. " Also I'd like to go to the beach and see the ocean."
Everyone should enjoy the summer-like temperatures when they can because it won't be long until winter sets in and snow begins to fall.  However, Horst said the winter of 2011-12 may be a mild one without much of the white stuff that has plagued the region for the past two winters.
"This winter looks to be an ordinary one with not too much snow," said Horst. " So for all you big snow lovers out there, sorry."