By Becca Frankford –
Tuesday night Penn Manor Girls Volleyball took second place in pool play against Spring Grove, Cumberland Valley, and Garden Spot.
"We played up and down. Sometimes we did well, sometimes not so good," coach Staub said about Tuesday's matches.
Tonight they will head to Hempfield High School to go against Central York at 7:30 pm.
Coach Staub said the he expects tonight's game to be,"very difficult match… if we do the things we want to do we can win."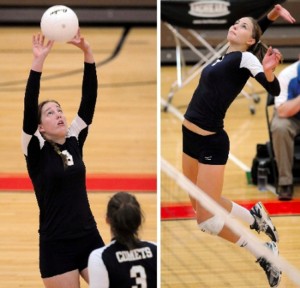 If the Comets win in their pool tonight then they will proceed to move on to the district semi- finals on Saturday.
The fierce Comet lineup includes Nicole Harnish, twins Cassidy and Remi Sangrey, Jessie Greenslade, Myranda Kemrer, Dana Mowbray, and Caroline Raush.
"Every team when you get this far will be good," Staub said about the potential competition he and the team may face at tonight's match.