By Becca Frankford –
After a heartbreaking fifth game loss to Hempfield Wednesday during league play, Penn Manor girls volleyball is ready to redeem themselves.
Teams from around the district will compete for the district title Today at 4:30pm at the Dallastown High School.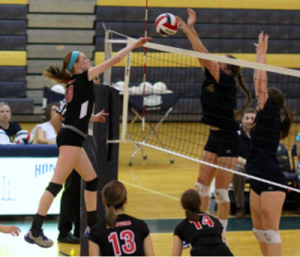 The starting line up for Penn Manor includes, twins Cassidy and Remi Sangrey, Nicole Harnish, Jessie Greenslade, Dana Mowbray, Myranda Kemrer and Caroline Raush.
Coach Jarod Staub will take JV players along but plans to only play his varsity girls.
"I expect it to be a long night of good volleyball. If we can do all the things we practice, we should do well," head varsity coach, Jarod Staub said on his expectations for tonight's events.
The Comets will take on Spring Grove, Cumberland Valley and Garden Spot tonight.
"Must win," Staub said reffering to their goal.  If the Comets win this evening, they will play Thursday. After playoffs, Comets hope to be in the semi-finals and then win the district finals for the first time.
"Its a good group of girls. They work hard and are fun to be around," Staub said.
The Comet's coach said he doesn't need to offer incentives for his team to play hard.
Staub said, "Winning is its own reward."