By Chris Fleming –
The 90 minute premiere of The Walking Dead's second season kicked off with a total of 7.3 million viewers on October 16, a new record.
The new season will have an hour long episode each week for six weeks. The last six episodes will start airing again on Sunday, February 12.
Season one of The Walking Dead held the record from its premiere last year.  Season one contained only six episodes and the new season is going to have a total of 13 episodes, according to mediadecoder.com.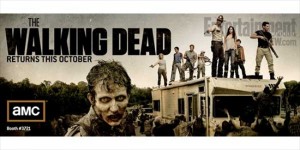 "It's such a good series," said Alex Sorce," I wish season one had more episodes though."
The beginning of the first season starts off with the main character, Deputy Rick Grimes, getting shot and going into a coma.  Once he finally wakes up in the hospital, he soon realizes that zombies or "walkers" have taken over his city. When he arrives at home, his son and wife are missing and he is afraid that the zombies have gotten to them.  He soon notices the pictures on the walls and family photo books are missing so he assumes they got away safely.  Deputy Grimes goes on to Atlanta because he hears that there is a safe spot. Will the rumor end up being true?
All the suspense and excitement of The Walking Dead seems to be catching peoples attention at Penn Manor.
"The end of every episode leaves me curious and craving for more." said Penn Manor senior Brian Le.
"I like The Walking Dead a lot.  It's a fresh new idea that sets this series apart from other series." said senior Ryland Overly.
The TV series is based on events that some people believe could happen if a zombie apocalypse ever occurred.  It's obvious that some characters in the show become greedy while others try to help each other out.  Throughout the series, some characters lose their cool and start to believe that there is nothing out there that can save them.  The anxiety causes them to take their anger out on someone else.  The group leader, Deputy Grimes is always trying to keep his cool and keep track of everyone.
"I've heard good [stuff] about The Walking Dead, but never found the time to watch it," said Logan White.
"I'm so glad that season two is finally here," said senior Bob Warfel," I look forward to Sunday nights."
Season two has already released the first two episodes and will continue to for the next couple of Sunday nights at 9pm on AMC. Episodes are available to watch on Netflix and On Demand.