By Taylor Goldberg –
It was a day to make a difference for those battling the second leading cause in cancer death: breast cancer.
Penn Manor High School's cheerleaders and boy's soccer players volunteered their time Saturday morning by participating in a Kick Cancer Kickball game for Help The Fight Foundation at Clipper Magazine Stadium Saturday, September 17.
"We didn't gain anything from it but the reward of helping people run the bases," said varsity soccer captain Ryan Martzall. "Just being with them was an award in itself."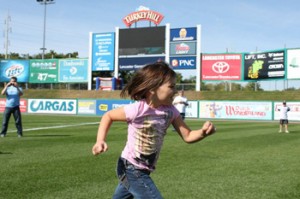 Barnstormer's Cylo the cow and Penn Manor's Comet Man both made appearances the day of the event.
"It's a wonderful organization," said Varsity cheerleading coach, Cindy Bachman. "Such a worth while cause – I wouldn't consider not participating at the event."
The cheerleading program welcomed the crowd first thing in the morning with a welcome cheer and continued their spirit lifting by cheering on the Kick Cancer Kickball game. While the soccer team volunteered to work the game by pitching the kickball, playing the bases and running the bases for those who were physically unable or preferred not to run.
"Penn Manor [athletes] did an exceptional job!" said Lynda Charles, founder of Help The Fight. "Volunteers are invaluable. They are gracious, caring and supportive, I am extremely proud."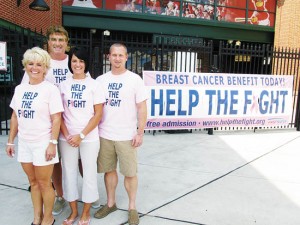 Help The Fight Foundation started in 2009 when founders David and Lynda Charles' relative was diagnosed. Lynda Charles had lost her mother to Breast Cancer 19 years prior to the first annual event in 2009. Help The Fight is affiliated with Lancaster General Health Foundation. 80 percent of the the proceeds go to patients currently undergoing treatment for anything from medicine, to rent, even child daycare. The other 20 percent goes to those unable to afford proper screening to detect breast cancer – the primary reason most women (and men) are diagnosed.
Help The Fight is known as Lancaster County's largest bake sale. The event this year also offered over 125 raffle items, silent and live auctions and hourly 50-50.
Help The Fight raised over $25,000 this past year.
For more information on Help The Fight and other events, visit www.helpthefight.org and like it on Facebook.