By Alex Kirk-
The Phillies beat the Mets Sunday to end an eight-game losing streak.  That win put them at 99 total wins on the season.
Phillies fans, including those at Penn Manor, were relieved they broke their losing streak.
"It was tough because they haven't lost so many straight games since 2000," said fan Dylan Weber, a Penn Manor senior.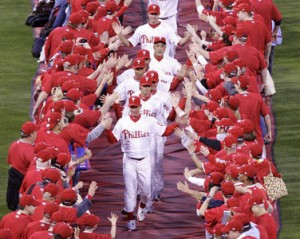 The Phillies had clinched the playoffs, their division, and home field advantage for October.  They had accomplished everything the number one team in baseball should, except 100 wins in a season.
With Cliff Lee on the mound, the Phils ousted the Braves 4-2 on Monday to get their century mark
"It's (100) a big number. We all feel it," said Raul Ibanez in a post-game interview.
The Phillies haven't won 100 games in a single season since 1977, and they just barely made it in 2011.