By Jacob Harvey-
Amazon is taking its shot at the tablet market with its release in October.
With the iPad shutting down all other competitors attempts at the tablet market now, Amazon is stepping up trying to put its foot in the door for the tablet market. Amazon is seen as the last competitor to knock Apple off its high horse of owning the tablet marketplace, but do they have what it takes?
With the famous App Store and the iTunes store, Amazon just doesn't seem to match up to what the iPad can produce.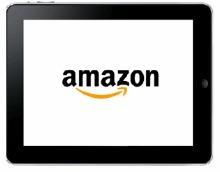 However, the big price cut might sway peoples minds into buying Amazon's tablet. According to a Tech Crunch Review by MG Siegler, the tablet that Amazon is producing is pretty much a kindle e-reader with a 7 inch screen.
"It looks a lot like a Black Berry Playbook and has no physical buttons and a two finger multi-touch screen with a back light for the screen," according to a Tech Crunch Review.
The Amazon tablet is supposed to be extremely user-friendly, and it's going to be run on Android.
Amazon's Kindle store and Cloud Player are both deeply integrated into the device's software, but there was no link to the Google Android Marketplace. The device is supposed to be Wifi only, but Amazon did add a link to its Instant Video Player, so users should be able to stream video onto the tablet.