By Sam Valentin-
Penn Manor boys soccer looks to succeed with a new coach at the helm.
Steve McCabe was named the new coach of boys soccer in February, raising hopes for better league play after the Comets missed the playoffs last year. He said he will use his experiences as a professional player and college coach to make this year a successful one.
McCabe hails from the southwest coast of Scotland where he came up through a youth system and later played two years professionally in the Scottish premier league. He came to the United States in 2003 and worked as a director of sports camps.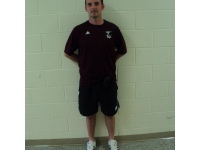 He started his coaching career at his alma mater, Eastern University, in 2007 as assistant coach. While there he also served  as Director of Soccer Operations, Recruiting Coordinator and Goal Keeper Specialist.
This year he decided to start his high school coaching career at Penn Manor. In February he was named the head coach of Penn Manor boys soccer.  And the players are excited about their new coach.
"He is freaking amazing. He has a lot of experience which is what Penn Manor has needed in the past," said Ryan Martzall, a senior captain on this year's squad.
Both the players and their new coach looked forward to the season after spending time together during training camp and really taking time to to adjust to the new skills McCabe brought with him including a new playing formation and an emphasis on life-oriented factors such as conduct not only on the field but off as well.
Under their new coach the squad split its two scrimmages picking up a win against Middletown and losing to Exeter.
Although the boys did win for their new coach in the first official game of the season beating Manheim Township in overtime 3-2, in their next game they lost a questionable game to Warwick which is always a tough team, according to McCabe.
Watch the Comets try to push for the playoffs under their new Scottish leader.