By Alex Geli, Jake Shiner and Sam Valentin –
It was the shortstop's turn to see what he could produce for his team with only one run separating the score in the bottom of the final inning. "CRACK!" He sent the ball to the third baseman who scooped up the game-winning out.
The sound of the crack of the bat is similar to a noise that makes these players cringe, a sound that makes the players tremble, a sound at which their wives wince.
The sound of a bone breaking. Or more likely for this group, their hip breaking.
These players are more susceptible to the agonizing pain caused by injury. Why? They're on the back-nine of life, between the dignified ages of 50 and 83, but they've still got some spring in their step – with the help of a cane sometimes.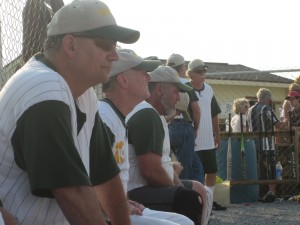 "We get a new hip, we get a new knee, we get a new back," one of the wives said from her striped lawn chair parked under the nearest shade tree," then they come back and play again."
And they just keep on playing.
Decades after they first hit for their high school team – back when a McDonald's meal cost a lot less than a buck – these old timers have taken up the game they love in a league created just for them in southern Lancaster County.
These over 70s players wouldn't even have the chance to be playing competitively if it weren't for self-dubbed league commissioner Fred Funk. Funk started the newest addition to the league just this year, but it took a lot of work. Finding old high school friends to  play and a field to play at were both tough.
"A lot of those guys were big and strong back then, but now they're just big," smiled Funk.
Fred Funk can be called the creator of one of the leagues and even some of the teams. He sat in his alma mater Penn Manor for days sifting through decades old yearbooks, collecting names to contact for his baseball teams.
He was looking for Penn Manor baseball players from from the 1950s and the 1960s who would be in their 60s and even 70s now. He made roughly 200 calls to potential softball league players. But only about 10 percent actually got back to Funk to play. The other 90 percent claimed they were too out of shape. The biggest reason some of the guys could not play was because their wives didn't want them to get hurt. But Funk still fielded a 60-year-old team that plays 21 games a season against 16 teams in the league.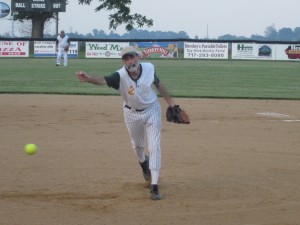 Funk created a 70-year-old's league which is in its inaugural season. There are a handful of teams in that league which also have players who are fit enough to play in both the 60-year-old league and the 70-year-old league.
Ron Brubaker, a member of the 60 and over league, has seen the better side of 60, but his dedication for the game of baseball has outweighed his health
troubles. Instead of playing in the outfield, he was limited to retrieving his teammates' bats and balls. A bad knee originally forced him out of play, but how about when he made his return?
"Batting a thousand, Ron!" a teammate cheered after Brubaker lined a single through the left side of the infield, also batting in a runner on top of his new achievement. With a nervous smile, he slowly trotted to the bench to let a more capable runner take his place on the diamond.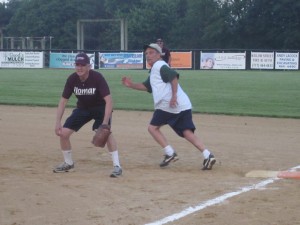 His inner bench-warmer kicks in at the end of the game, he cleans up the field and lets a teammate know he may have forgotten something.
"Somebody's glove!" he calls out.
"Young mind, old body," Brubaker mutters about not only himself, but the group of guys around him.
By sticking with the team, he was presented with not only the opportunity to prove himself, but to also enjoy the game that
all of these players love.
"You wanna have fun but you wanna win," explained Brubaker. Plus, "it keeps you half in shape for the grandkids."
There were famous players at Penn Manor High School over the years, some were in the Olympics and some who played professionally- but none of them are in this league.
"Those are the kind of athletes we had," recalled Mike Wilds. When referring to returning to softball with some of the same Penn Manor grads, Wilds added, "It's nice to come together again 45 years later and still be able to compete."
Well, some are able to compete.
Wilds has been sidelined because of his shoulder surgery but is looking to return soon to play with his old comrades.
Their passion shines through their wrinkles, glasses, crooked backs and slight paunches. None of that matters when they're out playing what they have loved for many, many years.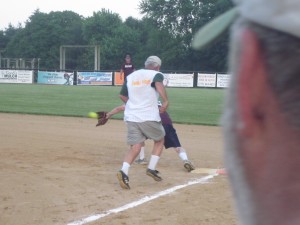 "I like the game (and) exercise," said Butch Stauffer, 73. After playing ball for Solanco in his high school years, Stauffer had to touch the tips of his fingers to the palm of his opposite hand and call for a very very long time-out because… well, it was simple, really.
"I couldn't milk cows and play ball," said the southern Lancaster County native, who picked up the game after a 40-some year hiatus.
In his red Willow Street uniform with the number two imprinted adjacent to his heart, a pair of glasses, a chin that sticks out with determination and a glove fitted on his left hand, Jay Wolf is one of the oldest players in the league. He's 81 years young and a 15-year softball veteran, he's "about ready to retire," but one thing still keeps him in the batter's box.
"The F-U-N," said Wolf, who recently drove by himself to Florida for the league's spring training. Unfortunately his 100-year-old father was unable to attend.
There are many incentives to play when you're 10 or 20 but when your 80, sometimes it's as simple as friendship.
"It's just camaraderie," said a 60s league-er, Ed Schopf.
Players, managers, coordinators – it's all the same, well, mostly.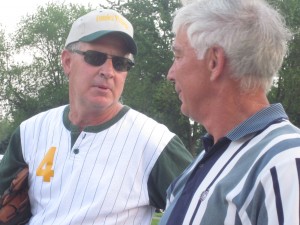 "There's competition, there's camaraderie," manager Norm Linhart said, adding, "They're not only dedicated, they're marginally stupid for being out in this heat."
For some, dedication starts in high school, but according to one 70s-league player, he started right out of the womb.
"I came out of the cradle and I've been pitching (ever since)!" said Charlie Perpetual, laughing.
These players will play until they either get injured or die playing the game they love so much.
One player convinced Funk to start a 50 and over league but sadly passed away last year before he ever got the chance to play in it.
They will play as long as they are able to. They also agree that they feel blessed to just be out playing ball at their age. The fragility of life is foremost in their minds when they play. They all say they feel lucky to be playing at this age.
"(We) still think we are invincible," stated Funk.
But in reality they go through injuries just like everyone else which is about the only thing that will make them quit.
"It would take an injury for me to quit," agreed seventy-one year-old Mel Underwood.
"Its a bunch of sixty-some year olds wanting to be 16 again," said Funk.