By Sarah Schaeffer –
Lady Gaga is known for creating surprise and disbelief among her fan base, but this time she's really done it.
Gaga's new album, "Born This Way," was released Monday after months of anticipation, available in both downloadable and CD form.
Unbeknown to the many fans who pre-ordered Gaga's album, Amazon offered a one-day sale of the MP3 album for only 99 cents as compared to iTunes' $11, where most people buy their music.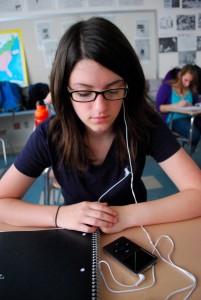 On top of the surprise sale, customers were even more surprised and disappointed when the massive sales stalled the entire Amazon server, which recently implemented a "Cloud Drive" service, allowing users to store files on the internet.
Smartly, Amazon promised the despaired users to get them their album for the same 99 cent price when the server started up again.
Regardless of the technical difficulties, Penn Manor students still managed to get their Gaga.
"I pre-ordered [the album] in March from Borders or Barnes and Noble because that's where it was cheapest," said junior and Gaga fan Natalie Dell'Estate, who has listened to parts of the album more than once already.
"I got [the album] on iTunes the day it came out," said junior Mike Nitroy. "I was mad because I payed full price and then found out it was 99 cents on Amazon."
As far as the quality of the much sought after album, the reviews are mixed.
"I really like her music. It just makes me want to dance. When you actually listen to her sing, she's actually talented," said Dell'Estate. "This CD is different from her first, it has a lot of electric/techno/80's inspirations."
"I listened to it all at once and it's just okay. Some of it's weird," said Nitroy.
Senior Eric Bear downloaded "Born This Way" immediately and loves it, even playing the album aloud on a field trip.