By Brandon Bowers –

Rain, rain, go away, come again on a non-game day.
With the seasons of many outdoor spring sports winding down, all the rain we have been having this spring has been postponing sports and moving their games to a later date and extending the season by weeks for some.
Baseball and softball are the ones mostly getting canceled because they don't want to mess up the fields. With the postponing of the games, the seasons are getting pushed passed the ending date of May sixth.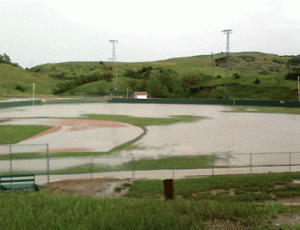 "It really angers me because I'm always ready for a game and it's just a downer when it rains and I get a text or hear from a teacher (saying) our game is canceled and moved to a later date," said junior first baseman Willie Welsh.
"I'm not happy. I get so pumped for game day, and then the rain ruins it," said Penn Manor senior center fielder Morgan Ream.
"It's a bummer. It's tough to be both mentally and physically ready on game day, and then the rain just makes it harder the next day," said junior second baseman Jenn Hanner, who plays Penn Manor softball.
When games or practices are canceled because of rain, the team often practices inside in a gym – just not the same for many players.
"Inside practices are nothing like outside practice," said Welsh.  "The ball comes at you twice as hard when we do infield. We have to hit in a cage witch I don't like because I like to see where the ball goes."
"Inside practice is terrible," said Ream. " It's JV and varsity in one gym. It's hard to hit and field with so many people in a small place."
"Inside practice is really slow and counterproductive. There's less effort given when we're indoors and compared to being outdoors it's definitely not as fun," Hanner said.
The inside practice may benefit the teams and may but the they give their best effort inside or out.
"We get the same practice as outs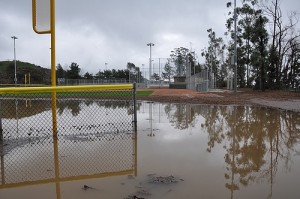 ide but it's just not the same experience," Welsh said. "We put everything we have in inside practice because we want to make it to districts show teams we are better then everyone thought we were."
"We do benefit and we don't from indoor practice. At indoor practice we work mainly on bunting and soft hand (for fielding). We can't do base running and situations inside," said Ream.
"When we're focused and give our all, we definitely benefit from indoors practice," said Hanner.