By Alyssa Byers –
I scream, you scream, we all scream for ice cream!
With the warm weather approaching, there are only so many ways to keep cool. So, what do you do on a hot, humid day when the air conditioner's broken and the pool's closed? Go get some ice cream of course. But where's the best place in Lancaster to satisfy your craving? Penn Manor students have their opinions.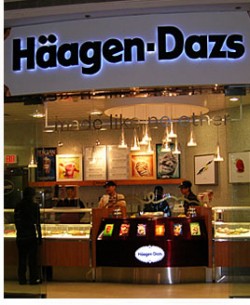 "Bruster's is where it's at," said senior Kaylin Madonna. "I've never gotten anything other than an M&M blast there."
With ice cream shops lining the roads of Lancaster County, it's hard to choose where to go. From Dairy Queen to Rita's, each ice cream shop is unique in its own way.
With over 50 ice cream flavors and more than 30 mix-ins ranging from bananas to Reese's Peanut Butter Cups, Maggie Moo's has plenty of options. Not to mention their variety of ice cream cupcakes, pizzas, cakes, and specialty treats.
Maggie Moo's is senior Whitney Reno's favorite.
"There are a lot of options and it's frickin' delicious," said Reno.
However, some say that at Rita's you get the best of both worlds. With a list of ever changing flavors of Italian ice and a growing inventory of types of custard, Rita's can satisfy anyone's craving.
Rachel Chapman said Rita's is her favorite because you get a mixture of custard and ice.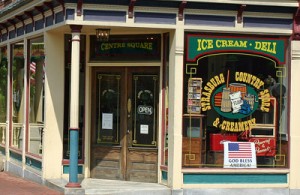 But what can end a meal better than a FREE sundae? At Friendly's, a "happy ending" sundae comes with certain meal options. If you're just in the mood for ice cream though, that's okay too. Friendly's has milkshakes, sundaes, friend-zs and much, much more.
A little closer to the high school, and with milk as fresh as it comes, Pineview Dairy offers ice cream, sherbet, frozen yogurt and even ice cream pie.
"Pineview Dairy is my favorite because their ice cream tastes different than anywhere else," said sophomoreLauren Swinehart.
If you still can't decide where to fulfill your appetite, here's a list of places to buy ice cream in Lancaster County, followed by a map of where each business is located:
http://maps.google.com/maps/ms?oe=utf-8&client=firefox-a&safe=active&ie=UTF8&hl=en&msa=0&msid=212690286688843050742.0004a3288a5d2e8462f36&z=11
1. Haagan Dazs
2. Pineview Dairy
3. Jim Mack's
4. Dairy Queen
5. Bruster's
6. Maggie Moo's
7. Friendly's
8. The Creamery
9. Dippin Dots
10. Scoops
11. Rita's Italian Ice