By Connor Rowe –
I'm at the beach on sixth street; where are you?
On June 11 the senior class will depart to their destination they've been thinking of for the past 181 days in the classroom.
The biggest question in regards to senior week is, where is everyone going to be?
The most popular response to senior week was the three hour drive to Ocean City, Maryland. OCMD is not known for its pretty beaches or town; it is just able to attract the majority of the seniors because of its inexpensive housing, convenience and the 18 year old crowd.
Last year's trip ending with six Penn Manor alumni arrested and put into the Ocean City jail didn't hold this years class back from going there again.
Last year's arrest made this years seniors more aware of what can happen.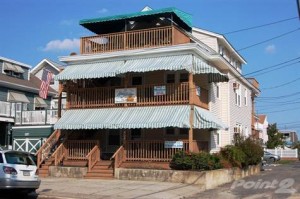 "No open containers and make sure you're with a buddy at all times," district police officer Jason Hottenstein insisted.
"I'm going to Ocean City, Maryland with my friends because everyone goes there and I'd rather be somewhere where all my friends will be. There is also a lot more to do down there. For example, you can meet new people," senior Jaq Presbery said (6th street).
"I'm going to Ocean City, Maryland; staying on sixth street with friends. Senior week is like a celebration with your high school classmates and you can't really take all of your high school classmates to a private place, unlike OCMD," senior Mark Curtin said (6th street).
"OCMD because its a great atmosphere the spirits are high because everyone's graduating. Everyone's going to be happy," senior Jessen Smith said (5th street).
There are a few people who had to make different arrangements for the week most seniors remember for the rest of their life.
One particular senior put her family in front of her peers to celebrate her high school graduation. Senior Stefanie Friedman is going to head to Atlantis in the Bahamas with her cousin. She is going to then travel back north to Virginia Beach to see her brother-in-law return from deployment.
Another senior had to adjust her arrangements with her job in this difficult economic time.
"Well now I'm not going because of work and it just never came together with the group of people I was planning on going with. It will be the first week when school is over and I wouldn't be able to request off my first week of a new job," senior Emily Hutchinson said.
One student was offered an academic trip through the school to celebrate their 12 years of Penn Manor.
"I'm going to Germany for three weeks because I saw it as a once in a lifetime opportunity and it was too good to pass up," Peter Horning said.