By Sarah Schaeffer and Kyle Hallett –
While most high schoolers are playing sports or at work, this 18 year old would rather sit down with his guitar and write a song.
One of his songs is now available to everyone on the planet with a computer and an iPod.
Adam Swift, senior and music student at Penn Manor High School, has been singing since seventh grade and playing the guitar since eighth grade. Then in eleventh grade, he began writing his own music.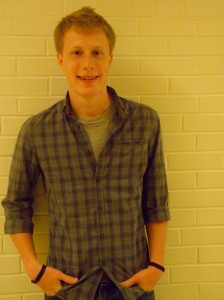 He recently wrote a song called I'll See You. Swift penned this song when he got off the phone with his girlfriend. He realized how much he misses her, as she goes to school in Virginia and the phone is the only thing keeping the two of them together.
"I sing it like I would be talking to her. In the song I tell her, even though we are far apart, we will see each other soon and the distance between us will be eliminated," said Swift.
I'll See You is now available for download on the iTunes library. It will soon be available on Amazon and Zune as well.
Students may be familiar with Swift's single which he performed at Entertainment Penn Manor in April.
"I appreciate all of the encouragement from ETPM. A lot of the people that I didn't know were complimenting me and my song," said Swift.
Swift is attending LBC (Lancaster Bible College) in the fall of 2011 and is majoring in worship art. He hopes that he will be able to "live the dream" as he finishes his college career and hopes to begin to record with professionals.
The artists that inspired Swift the most musically include Derek Webb, Caedmon's Call (Webb's original band) and the famous Johnny Cash.
"I'd like to thank MT [music teacher Melissa Telesco] for encouraging and motivating me in my four years in the music program at Penn Manor High School," said Swift.
To hear and download Swift's latest creation, visit iTunes: I'll See You by Adam Swift.