By Marc Summy and Cheyenne Weber-
Revenge….
Hempfield has won two of the last games against Penn Manor, both by one goal.
"Third times a charm," said lock-up defender Dani Warfel.
It was a different story on Saturday, the Penn Manor girls won 3-2 in penalty kicks (overtime) to claim the LL- League title from the Black Knights, winning for the first time since 2004.
Up next for the Comets are the District 3 playoffs. Penn Manor, the No. 4 seed in AAA, awaits the winner of a play-in game between West York and Carlisle, according to Jeffrey Reinhart on the Lancaster-Lebanon League News website.
The game was scoreless at the half. It remained that way after the end of regulation. Still no score after the first 20-minute overtime session.  The second 20-minute overtime period was scoreless also.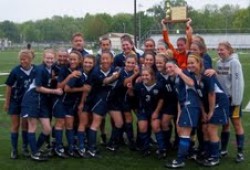 "Both offenses had the opportunities to score but just couldn't connect (speaking of regulation)," said Comet's goalie Veronica Willig.
The Comets and the Knights went to penalty kicks (PKs) , and on Penn Manor's fifth and final try, senior midfielder Katie Breneman found the back of the net against goalie Lauren Trower, which gave Penn Manor a 3-2 edge and sealed their victory.
Among the others to score, in order,  for Penn Manor during PKs was Logan Kramer, Dani Warfel and then Katie Breneman.
Penn Manor's four titles are now the second-most in league history; Hempfield, which was denied back-to-back championships, has the most with seven, according to Reinhart.
Veronica Willig saved the second and third PK kick while the fifth went wide. It was a good outing by both of the goalies, according to their coaches.
"This one feels different – it really does," said Penn Manor coach Bill Zapata, whose team won via shutout for the 16th time in 21 games this spring.
"It feels different because it's been a while and because nobody really picked us. (At the start of the season) everyone was picking Hempfield and maybe Conestoga Valley and we were sort of under the radar," according to the L-L News.
With a look of confidence, Dani Warfel said, "We just find a way to win the important games."