By Corbin Gillichbauer –

Students at Penn Manor attend Chess Club not only to play the game but to have fun and take a break from school for a short period of time. Chess can be played by anyone, good or bad, it is just how you "play the game" that determines your fate.
Zach Miller a senior at Penn Manor high school said, "It works my brain, plus I can come up with some cheesy pun lines. Like I will pawn you in chess…oh yea that's a good one."
Some students think that chess club should be a respectful situation  and players should not scream across the room to ask how was your weekend or what did you do with this move.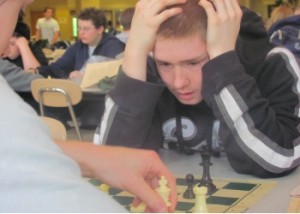 Brendan Carroll a senior at Penn Manor high school says, "It's always the underclassmen that are annoying, it not because I know them, it is just that they come in groups and know how to be pungent and make my ears bleed, hypothetically."
Chess club is a way to help students pick up a new game or to help students get better at chess and think outside the box just a little bit further to predict the next move.
Logan White, a junior on the chess team says, "There are some basic things you need to know when playing chess. First is don't be stupid.  Second is control the center of the board and third don't call the knight a horsey."
Chess club does not just exist to play and get better, but to have fun and play against your friends. You may want to try stiffer competition and play against Penn Manor's chess team. Penn Manor chess team plays other schools in the district.
The Chess team has a record of 2-5-1 and are fifth in the league.
White said when playing Carroll, "He forgets everything I teach him, he listens for one second then he makes a bad mistake."
Carroll retaliated and said, "I'm here because this isn't homeroom, I am having fun, I don't care if I lose."
Chess club is more then meets the eye. Anyone that wants to come try it out is more then welcome next year to join and try to beat the adviser, James Yearsley.