By Cheyenne Weber and Joey Jackson-
"Togetherness" is what the 2011 senior class of Penn Manor girls' soccer has according to head coach William Zapata.
"The seniors girls, hang out together, they're all close friends and they play well together. I don't think I ever had a team that was this close to each other," said Zapata.
The team unity that Penn Manor shares was not great enough to overcome the Knights for a second straight time.
Last night at 7 p.m. it was Penn Manor vs Hempfield, a showdown which is already a huge rivalry, and added on to that, it was senior night for the girls soccer team.
Senior night is a night of reflection and as the national anthem came to an end, the nerves and realization of the fact that, for some girls, this could be that last time they will ever play under the lights, set in.
Penn Manor started off slow and Hempfield capitalized by getting a 1-0 lead in the sixth minute of the first half. The goal was assisted by Lanser and scored by Mariah Dimm of Hempfield. The girls arguably outplayed Hempfield the second half but just couldn't find the back of the net.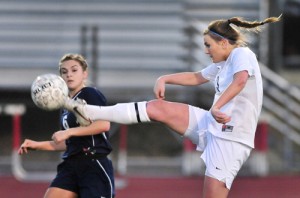 "First half was not played good by our own fault, second half was the Penn Manor we know," said coach Jason Hottenstein.
An always physical rivalry continued last night as senior Emily Hutchinson dislocated her shoulder in the first half of the game after colliding with another girl, and Katie Breneman got hit in the face later in the game.
"Hempfield doesn't play dirty, they play hard," Hottenstein commented about the physical play.
"I went up for a header and I got hit in the face, but we got a free kick out of it," said Breneman. Which, unfortunately, was another opportunity missed by the Comet girls.
"I'm getting an x-ray to check for any damage on my shoulder. Hopefully isn't as bad as we thought and I'll be back for the first league game," said Hutchinson.
Hutchinson is a big key to the Penn Manor defense, usually the go-to person to shut down the best player on the opponents side, according to teammate Katie Breneman.
The Comets look to end a league drought, as they haven't won the League playoffs since 2004.
"I think I have a set of girls that can do it," Zapata firmly stated.
The girls soccer team has nine seniors total, eight of the eleven starters.  They are looking past this game towards the playoffs.