By Dayonte Dixon and Marc Summy-
One week without a computer, a cell phone or an iPod! Could you do it, and what would be the hardest to give up?
Most people wouldn't be able to even accept the challenge because the world relies heavily on technology for work and play.
Sometimes people are using technology even when they don't know it.
According to www.msnbc.msn.com, young people, ages 13-24, spend an average of 16.7 hours a week online, excluding e-mail, compared to 13.6 hours watching TV. After TV viewing, they listened to the radio for 12 hours, talked on the phone for 7.7 hours and spent only six hours reading books and magazines for personal entertainment per week.
This addiction to technology has become second nature to the world, and some people feel it has gotten so out of hand that there has been a book made to help people break their addiction. The book that gives the world tips and ways to cut back on their usage of technology. (The book is called 'Digital Diet': How to Break Your Tech Addiction written by Daniel Sieberg)
Students at Penn Manor High School had opinions on what would be the hardest piece of technology to give up.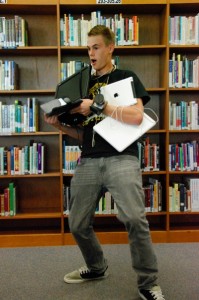 "I would say my cell phone would be the hardest to give up," said Tyler Smith, student at Penn Manor High School. "My cell phone is like a phone, iPod and computer all in one."
According to www.floatingleafpress.com, 50 percent of kids today have a cell phone before they're 11 years old.
This is a fiery trend has taken over the youth of today. Kids and teens have become hooked on social networks such as Facebook and Skype.
"I heard somebody say that if a teen is away from their phone for more than 15 minutes he will become fidgety and anxious," said Gary Luft, a mathematics teacher at Penn Manor High School.
Yet the adults interviewed were not always fans of this new technology unless it is needed for work.
Some of the adult staff who work at Penn Manor High School said that they rarely even use their cellphone, and only use their email for job related matters. The only adult that didn't follow these trends is a young teacher who has only been teaching for three years.
Shawn Maxwell, a gym teacher at Penn Manor High School, said "I could go a day, or better yet a month without my cellphone."
While Britney Clugston, the youngest teacher who was interviewed said, "I might be able to go a day without it, but I rely on my phone a great deal and it'd be tough to think about it."
Though technology makes it much faster and easier to communicate with people and has many benefits, many think that it can cause more harm than good. Many adults believe that the worst of the addiction comes with the social networking sites. They believe that the social networks are where most of the problems are coming from.
As the facts show, this addiction to technology will be a difficult trend to break for some kids and teenagers. The world has taken notice to this problem and has created a diet, by means of the book that can be purchased, ironically, online, to help slow this addiction.
The people who created the diet hope that the book, with the diet tips on it, will help cut back on the use of technology.
Some consider technology to be a burden or danger to kids and teens, but those who are considered to be addicted to technology should be happy because it doesn't look like this fad is going away anytime soon.