By Sarah Schaeffer and Cassey Graeff –
What's full of flowers, occurs on the second Sunday of May and is often accidentally forgotten?
That's right, Mother's Day.
Mother's Day has only recently been connected to actual "mothers." It began in ancient times with celebrations dedicated to goddesses and such figures in Greek, Egyptian and Roman civilizations. Christians designated a day to honor Mary, the mother of Jesus, on a Sunday in Lent.
The modernized idea of thanking your mother was brought to light in 1905 when a woman named Anna Jarvis began lobbying for the creation of a national day for mothers in order to celebrate the life of her mother and others across the country. A bill was passed in 1914 creating just that holiday.
Today, mothers, young and old, are honored with phone calls, flowers, jewelry, breakfast in bed and countless other things.
Sophomore Zac Burke wants to show his mom she is the greatest.
"[I will] probably go out to eat with her somewhere. Spend the day with her," said Burke.
"Go out to dinner with my family and have a Mother's Day picnic," said junior Austin Richwine.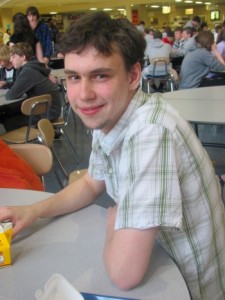 "Taking her out to dinner like all the time, but I work," said senior Vennessa Nogueras.
"I am going to make [my mom] breakfast, get her a card…my dad buys it, but I sign it," said freshman Matt Gue.
"We are going to take [my mom] out to lunch as a family," said freshman Alisa Herr.
"My brother bought my mom flowers, he hid them in my room too," said senior Brock Kauffman.
"I asked her and she said she didn't want anything, so I'm going to make her breakfast," said junior Samantha Smith.
"I'm getting her a gift card to go get her nails done because she never gets to do that," said senior Bobby Rehm.
"My mom was like 'Oh by the way, for Mother's Day…' so I bought her a cute pair of flip flops," said junior Abby Talbot.
Some students have thought "outside the box" for past Mother's Day celebrations.
"Made her breakfast and knitted her a sweater," said senior Paul Slaugh.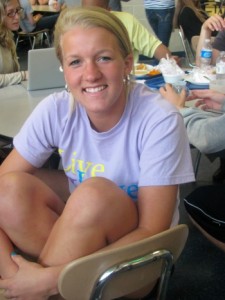 "I made breakfast in bed," said sophomore Addison Myer.
"I washed her car," said Nate Butcher.
Teachers, believe it or not, also have mothers with whom they celebrate the day.

"When my mother was alive I treated everyday like mothers day," said librarian Sue Hostetter.
"My son in the Air Force gave me flowers," said librarian Pam Yarnell.
"Yes, I've given [my mom] flowers," said gym teacher Stephen Weidner.
"I buy her flowers. I tell her I love her," said P.E. teacher Billie Jo Atkins.
Many students have positive feelings towards their moms.

"I admire her," said Taylor Breidenbaugh.
"I love her," said Emily Hess
"She's always there for me," said Caitlyn Whirt.
"She's the best," Kael Miller said.
"She's pretty chill," said Alex LaFrance.

Some students shared their favorite "Mom Memories."
"Yeah, me and my mom went to the moon last mother's day. It was stellar!" said Cassie Funk.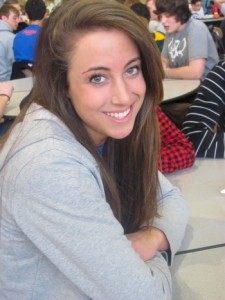 "My mom and I would sit in parking lots and make fun of random people, it was very fun," said Kira Klaassen.
"The other month, my mom randomly decided to celebrate a birthday party for a one-year-old; she made me dress up as a character from Yo Gabba Gabba, The orange one with one eye," said junior Bryer Rehm.
Miller said her favorite "Mom Memory" is very sentimental for her.
"I went hiking with my mom about 4 or 5 months before she got into a motorcycle accident, she hasn't quite been the same since then," she said.
"When she started the Help The Fight foundation that raises money for people fighting breast cancer," said junior Taylor Goldberg.
"The day I broke both of my wrists my mom came booking down the hill yelling 'What did you do?!'" said sophomore Steve Long.
"The day I had my shoe fall off and she yanked me out of the street because a truck was coming. The truck hit my shoe and it flew up and hit me in the forehead," said Cody Beaner.
"The day my mom bought me a necklace and explained what it meant to her," said senior Maddy Hess.
Celebrate your mom this Sunday, May 8.