By Simon Zimmerman-
Chas Alecxih and Jordan Gibbs have become the big men on campus at Pittsburgh University, returning as starters for the football squad next season.
The two long-time friends have had great success as high school players and continue to make Penn Manor proud.
"Their success sheds great light on the program and brings some notoriety to our football program here at Penn Manor," Said Penn Manor football coach Scott Lackey.
Alecxih was a starter last season for the Panthers with impressive statistics and commendable leadership.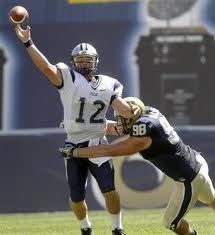 The 6'6, 280 pound defensive tackle was fourth on the team in tackles and recorded 7.5 sacks during his 2010-2011 season.
Gibbs, on the other-hand, who was not named a starter last season until half way through the year, will be the Panthers starting left offensive tackle.
The left offensive tackle is the most important position on the line because of the crucial need to protect the quarterback's blind side.
Both of these seniors have been good friends since high school and have been named leaders by coach Todd Graham who is taking over the head coaching job for Dave Wannstedt next season.
"It's an honor to be called a leader, and I still think I have a long way to go in grooming my leadership," Said Alecxih. "But again to be called those things by coach Graham is truly an honor and obviously where I came from, that makes it that much sweeter."
Former high school coach Aron Basile had great things to say about these football stars.
"Those guys worked extra hard and they were there from the start of when our program started to turn around," Basile said. "Both were leaders in their own ways, Jordan was a quiet leader and used his size and skill to lead the team while Chas was more of a vocal leader."
As spring practices are coming to a close, these seniors are looking forward to the upcoming season to show Penn Manor, Pittsburgh, and the nation what they are made of.