By Jay Jackson –
The next sound you hear could be the clip-clopping of mini horse hooves in Penn Manor hallways.
Miniature horses have recently been added to the animals that may assist physically handicapped students in the Penn Manor school district.
"I think anything that they are willing to let us use is great. I know that my students can open up to animals more than people," said Melissa McMichaels, who teaches life skills at Penn Manor high school.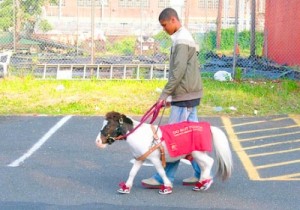 When you think of a seeing animal you think dog right?
This may be a funny thought however these horses have been used to guide  the blind.
Mini horses can actually be better for horse lovers and for people who are allergic to the very popular seeing eye dog.
These miniature horses can greatly help people in need of another set of eyes to guide them. The benefits of service horses are that they live longer. According to guide dog trainers, guide dogs have a useful life between 8-12 years. In the meantime miniature horses have an average life span of 30-40 years.
Apparently these special horse have many other advantages such as cost efficiency, better acceptance, calm nature, great memory, excellent vision, focused demeanor, safety conscious, high stamina and good manners.
Training these miniature magicians is a full time job and only should be attempted by a professional.
"The down side would be that it could distract the students in class while they need to focus on their work," said McMichaels.  "We would also need to take care of them."
This could be a problem with such an extraordinary animal walking the halls grabbing hundreds of students' attention.
The guide horses regularly work inside while leading the companion around restaurants, malls and offices. However when these horses are off duty they prefer the outdoors where they spend time in their small outdoor barns.
With the new seeing eye dogs being trained, walking the halls in Penn Manor high school, that could easily be a miniature horse roaming the halls