By Cheyenne Weber and Connor Hughes –
Penn Manor students going to jobs after school or their parents trying to get to work in Lancaster may have to take a detour after a bomb threat was issued for the city Monday morning.
At 10:15 a.m. , city police and K-9s trained in explosives detection were sweeping the Prince Street Parking Garage, according to a news release from Lancaster City Police Lt. Todd Umstead.
Lancaster police said a anonymous call was made at 3 a.m. reporting there was bomb in the Prince Street parking garage.
"I did hear about it when I woke up this morning ,which I didn't think anything of it, but any threat means it could be potentially true," said senior Noah Kuhn who lives in Lancaster City.
Police believe the bomb threat "stemmed from an ongoing investigation" and has no ties to the announcement of Osama bin Laden's death, the release stated.
Lancaster City police evacuated several blocks of downtown Lancaster in the early morning hours, due to what they termed a credible threat in the Prince Street Parking Garage.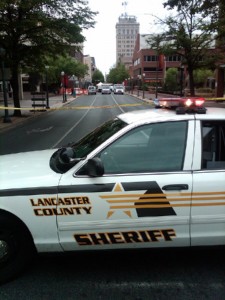 Before noon, a second search was being conducted. The first search found no traces of any explosives, according Umstead.
"We believe that things will be back to normal by noon," said Lancaster police Chief Keith Sadler.
Residents in the first block of West King Street, the first and 100 block of North Prince Street, the first and 100 blocks of North Queen Street and the first block of West Orange Street were evacuated to the Franklin & Marshall College Alumni Sports & Fitness Center on Harrisburg Avenue.
Traffic was detoured from streets surrounding the garage.  Also, police officers checked all businesses and homes to ensure that no one was inside.
Traffic was moving around the city through the morning. North Duke Street was open, as were other streets removed from the threatened area.
However, the shutdown affected a large group of workers due to the closed streets.
The outcome could just be a false alarm but the police aren't taking any chances.