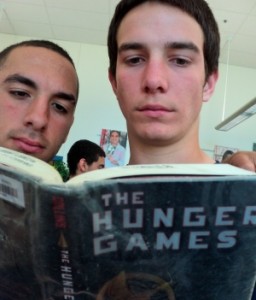 By David Mohimani, Jake Shiner and Sam Valentin –
Catcher in the Rye, Huck Finn, and To Kill a Mockingbird are all classic tales but also commonly bring about controversy in schools. While the three mentioned titles are very well known in literature, they didn't even break the top 10 list of 2011's most banned books list.
"(Books) Definitely  shouldn't be banned. There is no reason they should obstruct information from getting to us, that's like the first amendment."said Junior Logan White.
The 2011 list of banned books in high school may be considered more shocking than the content inside the books.
The list is as follows:
The ALA's top 10 most frequently challenged books of 2011

1. And Tango Makes Three by Peter Parnell and Justin Richardson

Reasons: Homosexuality, religious viewpoint, unsuited to age group

2. The Absolutely True Diary of a Part-Time Indian by Sherman Alexie

Reasons: Offensive language, racism, sex education, sexually explicit, unsuited to age group, violence

3. Brave New World by Aldous Huxley

Reasons: Insensitivity, offensive language, racism, sexually explicit

4. Crank by Ellen Hopkins

Reasons: Drugs, offensive language, sexually explicit

5. The Hunger Games by Suzanne Collins

Reasons: Sexually explicit, unsuited to age group, violence

6. Lush by Natasha Friend

Reasons: Drugs, offensive language, sexually explicit, unsuited to age group

7. What My Mother Doesn't Know by Sonya Sones

Reasons: Sexism, sexually explicit, unsuited to age group

8. Nickel and Dimed: On (Not) Getting By In America by Barbara Ehrenreich

Reasons: Drugs, inaccurate, offensive language, political viewpoint, religious viewpoint

9. Revolutionary Voices: A Multicultural Queer Youth Anthology edited by Amy Sonnie

Reasons: Homosexuality, sexually explicit

10. Twilight by Stephenie Meyer

Reasons: Religious viewpoint, violence

The Penn Manor library contains all but two of the book and the one, Crank, is not out in the general library but will be given to students if the student gets written permission by a parent stating that their son/daughter may read the book.

The books on the list however, did not shock everyone.

"No it doesn't surprise me," said English teacher Holly Asthiemer about the books on the list.

One student thought that Twilight deserved its spot on the list.

"Twilight deserves to be banned," said Sienna Emrich, adding that it was not well written.

Some felt that Hunger Games didn't deserve to be on the list.

"Twilight is poorly written but Hunger Games is a good book to teach for the right age group," said Astheimer.

"I thought it (Hunger Games) was good and that it's going to make a comeback like Huck Finn," said Matt Purdin.

The most surpirsing book on the list is And Tango Makes Three, a child's tale about two male penguins raising a baby penguin. It is banned because of the homosexual overtones some feel it contains.

Not everyone is in favor of libraries banning books however, especially educators.

English teacher CeCe O'Day said, "I think banning a book from a library makes no sense.  People should be able to read and explore new ideas."