By Penn Points staff members –
California is home to Hollywood, the city of dreams. Penn Points headed to "Cali" with visions of another award of excellency at the Spring National Scholastic Press Association Convention, but not all dreams come true as they found out in nearby Anaheim.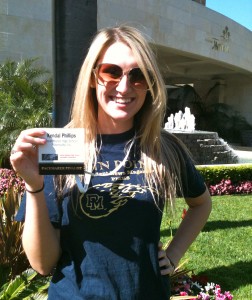 Penn Manor was awarded a best in show in the small schools category, but left the Golden State without a consecutive National Scholastic Press Association Pacemaker award.
They did, however receive an award as one of the Pacemaker finalists.  The designation means Penn Points is still considered in the top 20 student publications online in the country.
While in California, the Penn Points staff visited many sights including the world famous Disneyland. The staff explored downtown Anaheim every day, visited the outdoor mall and spent time at Huntington Beach. They also attended many conferences on student journalism and concentrated on workshops that dealt with online publications.
When exploring Anaheim the students conducted miniature interviews with random people on the streets.  They actually couldn't help themselves.
Junior Sam Valentin thought the seminars were very beneficial, "I think the seminars were very informative, we got a lot of information to bring back to Penn Points."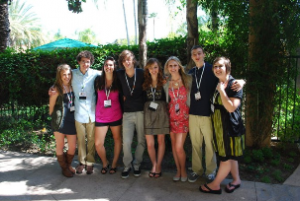 Valentin said his goal was to use the insight from the conference to come home with the Pacemaker award for next year.
Sarah Garner, a senior at Penn Manor and a senior staffer on Penn Points,  enjoyed the different workshops.
"I liked going to the workshops that were taught by students, it was on our level and it let us have a better understanding."
Senior editor and writer, Kendal Phillips, also appreciated the seminars.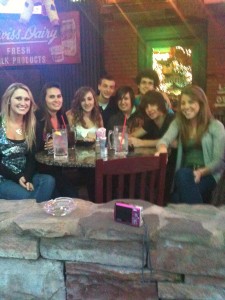 "My favorite (seminar)," said Phillips, who herself was a national honorable mention award winner for multi-media story last year, "was the one that talked about financing and how to promote our website. I think we really need to get on that."
Valentin said, "We attended seminars on how to improve our online newspaper I thought were very beneficial. We also had a lot of fun.  We bonded together (as a staff) and just hung out and really explored Anaheim and had a lot of fun."
Penn Points Co-Editor-in-Chief, Sarah Schaeffer went to several seminars on how to enhance online publications.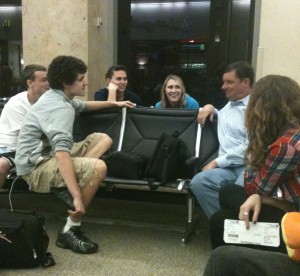 "We learned how to get more traffic and enhance our website. We took a lot of notes to show the classes," she said, "I also had fun going to the beach."
Jake Shiner, a junior at Penn Manor, went on the trip to the NSPA convention because he intends on pursuing the journalism field in college and beyond.
"My favorite part of the trip, outside the convention, was the evening at Disneyland where I had my most memorable experiences."
He too indicated he wanted to improve and refine the high school publication to ensure a winning spot on the podium in 2012.