By Alicia Ygarza-
Yes! She's doing it again.
Britney Spears just reached the top of the charts with her new album, "Femme Fatale," making her the first female artist to ever have six number one album debuts.
On top of that, according to the NY Daily News, Spears plans a 26-date North American tour in June.
"Britney Spears has the type of songs you want to roll your windows down to and sing your heart out," said Abby Newport, a student at Penn Manor.
According to BritneySpears.com, Spears will not be touring alone!
Since Enrique Iglesias dropped out on Spears' tour, rap diva and extraordinaire, Nikki Minaj, has snuggled into the spot.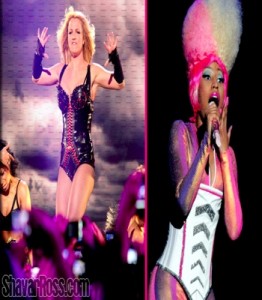 To many fans who are going, this may seem like the best concert of their lives.
"Britney Spears has always had great songs and I think her songs got better after her breakdown, " said Samantha Smith a student at Penn Manor.
Spears will even be performing a remix to Rihanna's song "S&M," which is number two on Billboard's Hot 100.
According to BritneySpears.com, the tour's female line-up will also be starring Jessie and the Toy Boys and Nervo on every tour stop.
In an interview with Ryan Seacrest, Minaj said her and Spears would make history and she's excited to make a spectacular show.
According to BritneySpears.com, Spears will be performing:
Till The World Ends
Hold It Against Me
Inside Out
I Wanna Go
How I Roll
(Drop Dead) Beautiful
Seal It With A Kiss
Big Fat Bass
Trouble For Me
Trip To Your Heart
Gasoline
Criminal
He About To Lose Me
Selfish
Don't Keep Me Waiting
Scary (from the Femme Fatale Japanese release; only available outside of Japan on the Premium Fan Edition, exclusively here atthe Britney Music Store)
According to comments on BritneySpears.com, a fan Grace said, "Love this album…every track is awesome in its own way…just fantastic!"
"This is the Femme Fatale tour and I'm thrilled to have the hot Nicki Minaj join me and Jessie and the Toy Boys and Nervo will get everyone on the dance floor," said Spears via her site.
"Can't wait to take the Femme Fatales on the road," she said.