By Alyssa Jahnke –

You walk into prom with a gorgeous dress hoping everyone loves it as much as you do.  You've waited 12 years to experience this special night.  But then all of a sudden, another girl starts walking toward you with the same dress. Now you're left wishing you would've done your research.
Prom time is a special time for any high school girl.  It only comes once and often you only get one chance to go–your senior year.  It's an exciting time toward the end of spring, with a hint of summer in the air.  Boys often seem oblivious to the excitement the word "prom" brings with it for girls.  Of course, everything for the girl starts with the dress. But no girls ever, ever want to show up with the same dress and there are ways to make sure this doesn't happen.
There are many stores around the Penn Manor School District where senior girls can go to for their dress.  Weddings by Paulette is only a mile from Penn Manor High School.  A short drive away are stores like Fancy Schmancy in Ephrata, Renaissance Bridal in York, and Bev's Bridal in Quarryville.
Looking for the right dress can be a long and tedious journey, hopping from store to store, but it can be worth it in the end.
Most girls going to their prom want to have a dress that no one else has seen or will be wearing.  Each store tries to carry different designers so they offer different choices to local high school girls.  Each store promises not to sell the same dress to more than one girl at each school.  This promise seems to be a comfort to each girl once she thinks she found the "perfect" dress.
"If I had not already bought the dress, and I knew someone else was getting it, I would not get that dress," said senior Megan Wilson.
It is also a great marketing tool for stores to use, trying to get girls to shop early for their dresses so they can lock in their favorite style.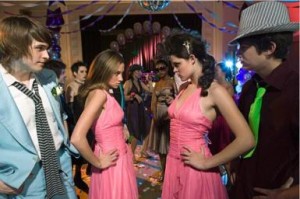 But the promise of no one else being able to buy the same dress does not have the same importance to every girl who is prom bound.
Senior Maddy Hess said, "I would probably just get a dress that I liked even if i knew someone else had it."
By being more comfortable with someone else possibly having the same dress, you have more options like finding ones on sale or at various stores that might offer dresses that are more reasonably priced.
"I'm not that worried about someone else having my dress," stated senior Jenna Waite.
Prom fever is in the air.  Whether or not  it's important to you to have a dress no one else has, prom is a time to make your princess dreams come true and go to the ball with friends you care about.
http://www.weddingsbypaulette.com/