By Alicia Ygarza –
Penn Manor is trotting toward a day of family, fitness and fun.
A "leisurely walk/jog and wellness experience for all ages," according to the event's organizer, will be held for PM students, staff and community members on Saturday, April 16.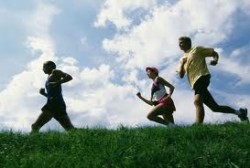 "The district's first Comet Trot was in November of 2009. Since that time a number of district employees (including the wellness committee) have been reflecting on how we can better an already successful event. In the past few months, these same individuals as well as community sponsors have been working hard to plan for an exciting day of wellness." said Jason Binkley, coordinator of the Trot.
The benefits of the Comet Trot will go to the PM Family Fund and families in need within the Penn Manor School District.
Local businesses are giving support towards the event.
Ann Letort Elementary PTO, Millersville Subway and John Herr's Village Markets are three of the 19 businesses sponsoring the Trot.
According to Binkly, Lancaster General Hospital will be performing height, weight and body mass index screenings. LGH will also have an interactive booth with activities like
Hidden Pitfalls- sugar, salt and fat- displays that show the fat, sugar and salt content that make up some of our common foods.
Grip Strength- A grip test offered to participants and the table will also offer information about exercise.
Steps to a Healthier You- A display of  the food pyramid, the right portions of food that should be eaten and daily exercise activities.
Binkly is expecting a great turnout.
"My expectations are that the school district and our community members can come together for a fun filled day of wellness. It is also my expectation that we will be able to make significant contributions to the PM family fund at the completion of the event." said Binkley.
The trot will begin at 10:30 a.m. and end at 1 p.m., rain or shine. The cost is $3 for adults and $1 for students.
Penn Manor High School's track will be very busy.