By Alyssa Jahnke –
It may be the best Penn Manor has ever done at the science fair.
A grand champion prize and several other wins in various categories was an amazing showing for Penn Manor students, according to science teacher Dave Bender.
"Penn Manor rocked!" Bender said about the students from Penn Manor did at the North Museum Science & Engineering Fair.
Bender was in charge of the science fair at Penn Manor High School.  He said Penn Manor has won more awards in other years but never this many top ones.
"It was our first ever senior grand champion," Bender said in an e-mail  "But I was equally proud of our two category first place winners and our second place category winner as well."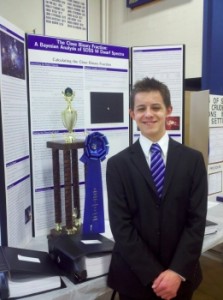 The North Museum Science & Engineering Fair was was held at Franklin & Marshall College Monday, March 28 through Wednesday,  March 30th.  It was their 58th annual county-wide science fair.
Four Penn Manor High School students were at this fair to show their displays and experiments.
There were 350 students from 25 different high schools.
Senior Ben Clark won first prize over all the other competitors.
"I determined how common close binary stars are which has important implications to determining how stars form," said Clark of his project.
Clark is trying to make a decision about his future educational endeavors.
Clark said,  "I have been accepted to Harvard and Princeton, but haven't made a decision yet."
Clark now qualifies to compete in the ISEF, which is the Intel Science & Engineering Fair held in Los Angeles in May.
Anthony Crognale, a sophomore, won first place in the microbiology category. The experiment he did was the effects of bovine leukemia virus infection of human leukocyte cells. Crognale also participated in the science fair the previous year.
In addition to having a display for their project, students also had to participate in an interview with a group of experts.
Senior Zach Estep, won first place in the physics and astronomy category.
Estep's project was about, using sound waves to separate crude oil emulsion in the ocean.
"I want to go into the medical field after high school," said Estep.
Junior Jake Shick said, "My experiment was on the chaos theory."
This was Shick's first science fair.  He won second place in the mathematical sciences category. After high school Shick is interested in the science field in college.