By Chelsea Miller –
Her song makes deaf people complain…
Rebecca Black, only 13 years old, is now competing with Justin Beiber and other young, popular artists. On Feb 11, her music video "Friday" went viral on Youtube, taking few days for her to receive thousands of views. Now the video is up to 40 million hits and counting.
"Her voice is terrible," said Amber Ayala.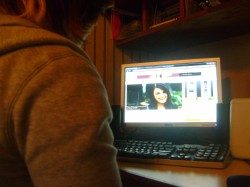 A company called Ark Music Factory was the one who published the music video. The company announced they didn't even auto-tune Rebecca's voice; they believed her to be amazing as is.
"She is famous because people love to make fun of her," Kelly Hoover said.
Black's song "Friday" is now available for download. Her song reached 39 on the top 100 on iTunes. She even beat her crush, Justin Beiber. "Friday" has been downloaded millions of times while her Youtube video gets more then a million hits a day.
"She is not good enough, the most suckiest song ever," said Courtney Jacobs, a Penn Manor music department student.
Good Morning American interviewed Black about her astonishing popularity. She admitted her "Beiber Fever", and even looked at the camera stating that she would want to do a duet with him. She has also been on MTV and other popular talk shows.
Since the video was uploaded to Youtube, cyberbullying directed at Black has gotten out of hand. Some people commented the video, saying things about how horrible her voice is, that she's worse then Bieber, how stupid she is, she needs to die and other inappropriate comments. Some people went so far as to make parodies out of "Friday," making fun of the lyrics and Black herself. Black said she was upset about these comments and admitted to crying at first, but said she is over the attacks and just wants to forget about them.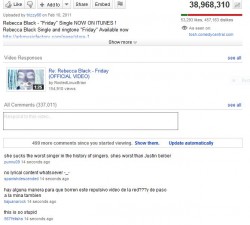 In the past few days, an internet rumor went around about Black commiting suicide, but she is still alive and belting out her song.
"['Friday'] is repetitive, annoying, and lacks musical talent," said junior Selena Hasircoglu.
Black is currently planning on a new song. On MTV's 10 on Top, she announced that "if you don't like 'Friday' then you wont like my next song."
Some people say she is only famous because how horrible she is. Decide for yourself by clicking the link below to the official music video.
http://www.youtube.com/watch?v=CD2LRROpph0
Whether it's due to love or hate, this 8th grader just seems to be getting more and more famous every day.