By Bryan Buckius-
A day that will live in infamy. December 23, 2010 is a day that will forever be in the minds of many Penn Manor senior athletes.
This year on winter fun day not everything went as planed for the faculty of Penn Manor High School. During the annual Senior versus Faculty basketball game it looked as if the faculty would wrap up another easy win.
But things don't always turn out as expected.
On Thursday, April 14 at 7 pm in the high school's east gym, the faculty will have the chance to get revenge on the seniors for the unfortunate events of fun day. Penn Manor Gridiron will be hosting the game as a fundraiser. Admission is $3 but children under 7 get in for free.
"The teachers were good and I thought they were going to win easily again," said senior Emmy Hess.
As the game went on, however, the senior team cut the teachers' lead and, on the last possession of the game, were only down by two. After receiving the in-bounds pass, senior Mark Curtin dribbled the ball up the court. He was swarmed by the faculty defense so he kicked the ball out to a wide open Garrett Young.
"As soon as Mark found Garrett open in the corner I knew we were going to win," said senior Megan Wilson.
The pass was cleanly received by Young and as the time expired, the gym became silent. With the ball traveling towards the hoop like a guided missile, all eyes were fixed on the court as the ball gently swished through the net.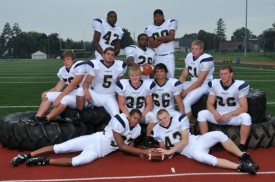 "All that I remember is making the shot and before I knew it I was surrounded by my screaming teammates," said Young.
The teachers believe that they won't have a problem defeating the students this time around.
"If we can contain Teon Lee and Demitrius Dixon we will win by 20 points at least. I'm not even worried about Garrett," said Mr. Eck.
The seniors, however, fell differently.
"For all the students who missed the first time the teachers lost, make sure you come to see them lose again," said senior Jessen Smith.
Will the seniors be able to back up these bold predictions?