By Brandon Bowers-
Anything can happen, UConn girls are geared up and ready to play in the this year's NCAA Championship game, going for their seventh national title. And history.
UConn's captain forward Maya Moore may lead her team to yet another NCAA Championship.
She is one of the best scorers in the league. Her score total in four years is 1110 with a percentage of .538 and her 3-point field goals are 294 with an average of .406.
She only misses a shot one out of every two shots she takes and from long range she only misses about one in every two or three shots.
"UConn is one of the best girls basketball team in history, no one would had ever thought that one team could go 90 and 0 before finally losing to Stanford. It was a heart breaker for them they had history and would of taken it farther, But 90 and o will be hard to beat," said junior Kevin Bubaker.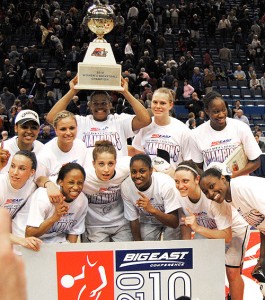 People may not watch girls basketball because they may think it's boring or not interesting, but UConn may make basketball a different story.  They have won six championships and may be ready to take on seven.
The tournament will decide if they are the best team in the country.  If so, they will be making history, even if they are "girls."
After this year, Moore will be leaving and may be entering a draft to the WNBA so UConn will be losing a big threat in the lineup.  UConn coach Geno Auriemma will have a tough time replacing her.
"I personality don't watch girls basketball but when highlights come on ESPN, it is always UConn and Maya Moore making ridiculous shots or them beating a team by 30 to 40 points," said junior Will Welsh.  "That is crazy. The UConn girls should just play in the men's league and beat up on all the boys. They are so good when I seen that they where 90 and 0 I was shocked," said Welsh.
The girls may only have four more games until they are in the championship game but they may still have to come out ready to play and win these key games so they can get that seventh title.
"It's just that girls seems too slow to watch," complained junior Matt Duvall.  "But UConn is a different team.  They have the plays and the talent to take their time to get a good shot or find an open hole for a lay up. they have had a disappointing game against Standford to snap the 90-game win streak, but they will win this year's NCAA Championship."
Their big win against Purdue now puts them in the final four match up against number five- ranked Georgetown this Sunday. If UConn pulls off  yet another big win it will put them in the championship game for a chance for the historic seventh title.
To see the UConn women in action, go to this video: http://search.espn.go.com/uconn/women%27s-basketball/57