By Bryan Buckius –
Balls, bats, and gloves. Penn Manor girls softball isn't afraid to get down and dirty.
With the start of a new season finally here, the Penn Manor girls softball team is looking to write a new chapter in their book of success.
Kierstin Bechtold was the only starter to graduate last year and the lady comets are looking to improve on their 8 wins and 11 loses from a year ago.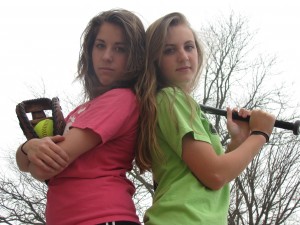 "This season we want to have a winning record and make districts," said junior Jenny Hanner.
Penn Manor's junior varsity coach Aron Basile is anticipating a successful year as well.
"We have the potential to be successful. It's just a matter of time," said Basile.
With eight of nine starters returning, Basile said some of the key players for the Comets success are going to be Jenny Hanner, Jenna Santaniello ( 2nd team all star), and Ashley Witmer( honorable mention). Senior pitcher Kendra Keuper will also have a pivotal role in the Comets lineup
The Comets have drastically improved over the last few seasons. Over the last three years the softball team went from only winning four games to having a record of 8-11 last year.
Although having talent is important for a team to be successful, that's not the only key to winning.
"If we want to be successful this year we need to be more than a team. We need to be a family," said Hanner.
The softball team officially kicks of their season and a quest for the postseason Friday at May at 4:15 at Manheim Central.