By Jay Jackson & Joey Jackson –
Eleven teams from one conference is the most in the history of the NCAA tournament, but the showing of these teams has been in vain.
The Big East had high expectations going into this year's tournament, but this anticipated success may have been over-hyped.
By the Sweet Sixteen round, only two schools from the Big East, UConn and Marquette, are left in the field.
However, two teams were eliminated and St. John's lost an vital piece of their team when D.J. Kennedy tore his ACL.
But other teams from the Big East have no excuse, such as Pittsburgh, a number 1 seed, who lost to a less-than-stellar Butler Bulldogs team after a heart-breaking foul by Nasir Robinson sent Matt Howard to the line with 0.8 seconds on the clock, Howard hit his free throws to oust the Panthers 71-70.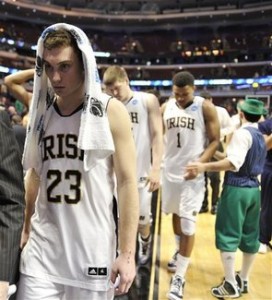 Peter Ashworth, a Pitt and Big East fan, commented on Robinson's foul, "He has no intelligence…like at all."
Ashworth later went on to say , "…some you could kind of see coming, like Villanova and Georgetown, I didn't expect to go anywhere," when describing his reaction to amount of Big East teams packing up early.
Other teams from the Big East to go home early were West Virginia, Syracuse, Cincinnati, Notre Dame, Georgetown, Louisville and Villanova.  The only teams to lose to a team of higher seeding were West Virginia and Cincinnati.
Although the Big East was the strongest conference from November to February, they have tendencies to not show up when it counts. With only two championships since the turn of the millennium the last of which coming in 2004, one of which is UConn, who advanced to the Elite 8 yesterday with a 74-67 win over San Diego St.
Dan Elliot believes that the reason for this is an inner problem, saying, "They beat up on each other all year, then in March they have nothing left."
Senior Mark Curtin stays by his conference's side adding, "The Big East is the best conference top to bottom, but they didn't show it."
Other conferences have been labeled as "weak," and have had better showings.
The ACC conference, which some considered the weakest power conference, has had one of the best showings with 3 out of the 4 teams reaching sweet 16, one of these teams being 10 seeded Florida St, who dismantled Notre Dame in the third round.
Even with UConn advancing and Duke losing to Arizona, they have still had a better tournament showing than the Big East.
"ACC baby," senior Spencer Barnett said.
The ACC has proven to be a dangerous conference when it comes to early April, with 5 of the last 10 NCAA championships going to an ACC team.