By Alyssa Byers –
Fighting for first place is a lot harder than it looks.
Thursday March 10 was the start of the  PIAA State Championships for wrestling. From Penn Manor, Bobby Rehm and Evan Singleton fought to place in the tournament. By the end of the third day, Rehm won fifth place in states. Rehm is the first wrestler to place at states since Ryan Bosso in 2005. Bosso also placed fifth.
"I thought they did very well," said coach Steve Hess. "They did outstanding."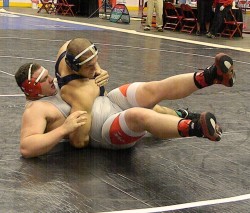 Both Rehm and Singleton won their preliminary matches on Thursday. Rehm wrestled Robert Rizzolino of Easton and won 4-2. Singleton took on Alec Gluvna from Corry, winning 7-3.
On Friday, things seemed to take a turn for the worst for Penn Manor. In the quarter-finals, Rehm lost to Zach Mcginnis of Waynesburg 11-8. Singleton also lost in the quarter-finals, 3-1, to Jeremy Reith of Father Judge.
Later in the day, however, Rehm won in the consolation quarter-finals to Kody Young from Punxsutawney 6-3. Rehm would move on to day three, Saturday March 12th. Singleton, however, lost to Josh Duplin from Westmont Hilltop 6-5. Friday was his final day in the tournament.
"It was really cool being up there and it was really cool knowing I was one of the top wrestlers in the state," said Singleton.
Day three came and Rehm won against Mike Fake from Parkland 12-5. In his final match, Rehm wrestled Devon Litito from Liberty. He lost 7-3. This placed Rehm at fifth.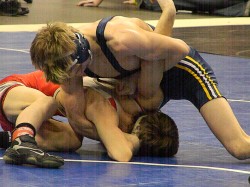 "I definitely feel like I could've done better. I feel like I could've been in the state finals," said Rehm.
This was the last time the boys would wrestle in high school, and were respected for how far they've made it.
"You could always want to do better, but it's a fine line at states," said Hess.