President Obama made his NCAA Mens Basketball Championship picks. And let's just say he doesn't take the same risks with his bracket that he does with politics.   All number one seeds.
In fact Obama does not have any seed ranked lower than a number three in his Elite Eight, not to mention no team below a number five seed in his Sweet Sixteen.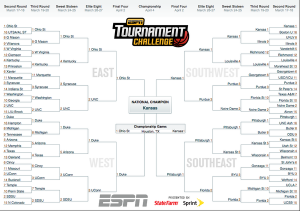 Obama favors the Kansas Jayhawks to beat the Buckeyes from Ohio State in the championship game.
Obama has a history of picking all chalk. Last year he also had two number one seeds in the championship game and no lower than number two seed in his Elite Eight.
While Obama may believe that these are the best teams, is picking chalk the easy way out?
"I get disgusted when I see that, that's never going to happen," said junior Andrew Herr, referring to the outcome of the tournament.

Junior Alec Keck said of people that pick all number one seeds, "They are afraid to take chances."
When students were told that it was President Obama who had picked all number ones,  their views were not swayed.
"Obama sucks for picking all number ones," said Herr.
After Keck discovered it was Obama who picked all number ones, he stood by his earlier comments.
"That doesn't change my mind at all," said Keck.
While the President's picks may be predictable, the most important question is – are the picks correct?
Obama has been 50 percent right so far in his presidency when it comes to predicting the college basketball champion.
In 2009 he correctly picked North Carolina and last year he incorrectly selected Kansas, whose team did not make it past the second round.
Obama has better luck this year, when in doubt #1 seeds is not a bad place to start.