By Bryan Hess –
The Supreme Court decided in favor of Westboro Baptist Church March 2 in a case that is very controversial, like most things in which the self-proclaimed church is involved.
The church is notorious for causing a disturbance at funerals of soldiers that were killed in combat.  They attend the funerals to protest and claim that this is God's way of punishing the country for its acceptance of homosexuality.  Now, church leaders of Westboro have threatened to protest at the funerals of children who died recently in a Perry County fire.
Lance Corporal Matthew Snyder died while fighting in Iraq.  Members of Westboro found out about the funeral and came to protest.  Albert Snyder, the father of the deceased, decided to press charges against the church.
Initially, the father was awarded $10.9 million.  Then on February 4, 2008, that total was reduced to $5 million.  Westboro appealed the case, and the Fourth Circuit Court of Appeals reversed the lower court's decision.
Then the Supreme Court decided to take the case.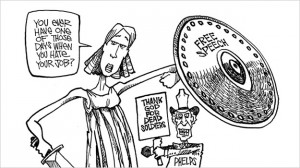 This decision surprised many.  It was a lopsided decision of 8-1 in favor of Westboro Baptist Church.  Chief Justice Roberts, who wrote the majority opinion, stated all of Westboro's actions were protected under the First Amendment.
Ben Baer, a senior, agreed with the decision.  He feels that as long as the church follows all the rules that they aren't doing anything wrong.
"They should be allowed to voice their opinion," said Baer.
Westboro Baptist Church has strong beliefs against homosexuality, and believes that all tragedies that happen are because of America's tolerance of homosexuality.
Fred Phelps is the leader of the church, which consists mostly of family members.
Justice Samuel Alito wrote the dissenting opinion.  He believes that the Church was only protesting to bring attention to themselves.  He also went on to say that there were many other places Westboro Baptist Church could have picketed, but they chose not to because the protest would have probably gone unnoticed.
Tyler Keck, another senior, said he agrees with the opinion of Alito.
"There were plenty of public places for them to protest, there is no reason they had to be at a funeral," said Keck.
Keck also believed that because Westboro personally attacked the family that they should not be protected under the First Amendment.
No one thought the tragic deaths of seven children in a house fire in Perry County had anything to do with the Westboro Baptist Church.  However church leaders issued a statement announcing they would be holding a protest at the funerals of the children to show the fire was the result of God's wrath on the homosexuality issue.
The U.S. Senator from Pa., Robert Casey, issued a statement denouncing the planned protest at the childrens' funeral.
"Westboro Baptist Church's repeated exploitation of personal tragedy is disgusting," Casey's statement read.  "They have protested funerals of troops killed serving their country.  Now it is targeting the funeral of children.  The protesters should stay in Kansas and pray for the Clouse family.  The U.S. Supreme Court may say that they can continue to preach hate, but that doesn't mean we should tolerate their actions in Pennsylvania.  If this protest goes forward, I hope that the people of Perry County and the Midstate will come out to support the family."