By Alex Sanchez –
Fact: Black Ops sold more copies then any other Call Of Duty game before it. Another fact: the latest map pack is the greatest map pack ever for the Call Of Duty franchise.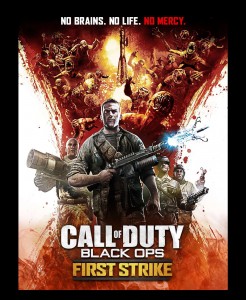 On February 1, the new map pack First Strike was released for the Xbox 360 and many people have been more than happy with the results.
In this map pack, five new maps have been added. Four normal multi-player maps, Berlin Wall, Kowloon, Stadium and Discovery are in the pack. The maps bring a new feel for plays as there are things that make each map different.
First there's Stadium which is the new version of Nuke Town with added changes.  It's a medium-sized map which takes place in New York.
Then there's Discovery which one of the biggest map for Black Ops, and is the hardest.
But not to Penn Manor freshman Eric Shetrompf who says, "Discovery is a big map but it isn't that hard to move around. You want to look out for the ice bridge."
The ice bridge is one of the new features that this map has where there's a bridge made out of ice that can be blown up.
Kowloon is next and this map is based off the mission in Black Ops' campaign called "Numbers." This map is full of hidden places and is the best map for all game types. In fact Shetromphf has even more to share about this map.
"There's a lot of places to hide and lot of campers which makes it hard to move around when you first play the map," Shetromphf said.
Also in this map, there's two zip lines which let players move around the map with ease but when you do this you can't defend yourself or attack anyone until you're on the other side.
"I've died when I used it a few times and I've killed (those) who have used it," said Shetrompf.
Now for the Berlin Wall, which if you don't know what that's based on, you must have failed history.  This map is in Germany. This map is made for snipers because there's a lot of long-range places and camping spots just for long-range fighting. But the worst thing about is the No-man's land which has auto turrets that will shoot and kill anyone in it. But its a great way to go across the map so if you want to press your luck to get to the other side-good luck.
Last, the best thing about this map pack is the zombies map called Ascension.
In this new zombie map you're in a Russian space station where a man's voice says, "Hurry the mechanism must not be damaged. You must repair the mechanism and hurry, she is coming!"
This is just the beginning for him because if you do the Node puzzle you get a surprise – but you going to have to find that out for your self.
This map is the biggest and hardest map for the C.O.D. series yet. But don't take my word for it.
Listen to what Shetrompf  has to say about this map, "It's the best zombies by far…. It's so intense and there's so much stuff in it that you really need some team work or else you're dead."
You start off in one room and you have to earn points by killing zombies and unlocking more and more doors and weapons. The point of it all is to to survive to the highest round that you can. And there's new things like new perks weapons Easter eggs and zombies.
Now the map pack First Strike is out for PS3.
Nothing has changed from the Xbox version.
Anthony Fulginiti has the map pack for the PS3 and he says that, "It's easy to get used to… when I first got it I went to Stadium and I learned the map quick and I got a good score in the end."
So for PS3 users, the multi-player experience is a bit easier for them.
As for the zombies experience he says that, "It not as good as I thought it would be, the monkeys are easy to beat and the zombies are smarter than the normal zombies, but not that much."
The results are in and First Strike made records as the most downloaded map pack in C.O.D. history.
So it must be good and at a good price. But if you're a Wii user as of right now the Wii gets no map pack but keep your hopes up because there is a new patch coming.