By Simon Zimmerman-
The Apple company has recently come out with its new line of updated and improved laptops, hoping to increase sales.
They are still the same style as their previous line, with 13,-15,-and 17-inch sized models and the same prices ranging from $1,199 to $2,499.
As a customer, you would not notice the changes of this new line. This is because all of the real improvements are in the performance, not the cosmetics.
With faster processors, more powerful graphic processors, an HD camera and a USB port called Thunderbolt, this new line could make the church bells ring for hardworking college and high school students.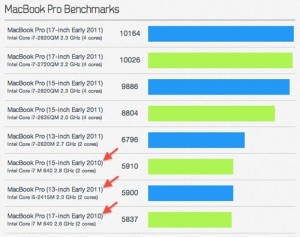 "My laptop is two years old so it is very outdated compared to the (new)line," said senior Lars Andersen. "So the features are very much improved and I would consider buying one."
College is swiftly approaching for Penn Manor seniors and many are in need of a new and faster laptop with the hard and grueling work that comes with college.
Purchasing a laptop from this new line would be one way for college students to be more efficient.
According to Macrumors.com, "The slowest MacBook Pro performs on par with the fastest previous-generation MacBook Pro, and the fastest MacBook Pro is 80 percent faster than the fastest previous-generation MacBook Pro."
Therefore, no MacBook before this new line has been more efficient or even close to the same speed.
"I already have a laptop but I wish I would have explored the new MacBook line with all of its new updates," said disappointed senior Josh Carle.
Although many, like Carle, already have a functioning laptop, the new line of Macbook Pro's are undoubtedly outperforming the old.