By Sarah Schaeffer –
Driving down a city road, searching.
Finding a parking spot in a busy city is rarely easy and never enjoyable. Everyone has experienced the headache of seeing the perfect spot in the distance, speeding up to claim it and then feeling the crushing disappointment when a minuscule vehicle is already planted between the white lines.
There's an app for that.
This headache may soon be eliminated by a new app available for iPhone users. This app, called Parker, was created by San Francisco-based company, Streetline, in an attempt to bring parking into the modern times of technology.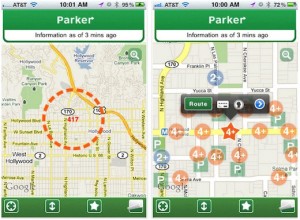 Parker works with a system of battery-powered sensors installed in parking spaces. The sensors send information to a receiver located in a nearby lamp poles, which in turn sends information to a data center located in Dallas. From Dallas, the information is sent to the app and is then accessible by app users with the help of Google Maps.
"This is a creative way of showing parking availibility. It's a good way to use technology to help the public..," said Zia Yusuf, CEO of Streetline, in an interview with USA Today.
Currently, this technology is only available in Los Angeles, Roosevelt Island in New York City and, soon, For Totten Metro station in Washington, D.C. and Salt Lake City.
Like many apps, this new technology has the potential to sweep the nation, especially since the price is right. Each year, the sensor system costs the city only $420 with the app costing purchasers only $1.99.
As for the possibility of such a system being installed in Lancaster, the general consensus of student drivers at Penn Manor is a "go."
"I think that's pretty useful. It's a good idea," said senior Corey Morales.
"Yes I would [use Parker]. That'd be pretty sick," said junior Clayton Secrest.
"I would use [Parker]. It would save a lot of time when looking for a parking spot. It would be less stressful," said junior Mitch Domin.
Only time will tell the fate of Parker, but Penn Manor is optimistic.
For more on Parker and to see the new technology in use, follow this link from USA Today.